Professor Baecher receives Panamanian National Award for Science and Technology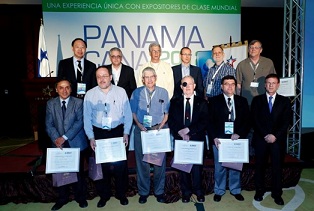 Panama City (April 19, 2012). The National Secretariat for Science, Technology and Innovation of Panama (SENACYT) recognized ten engineers with the National Award for Significant Contributions in Science and Technology at the 2012 Engineering and Infrastructure Congress organized by the Panama Canal Authority (ACP). Among the recipients was Professor Gregory Baecher of the UMD Department of Civil and Environmental Engineering.
Through this recognition, SENACYT, responsible for science policy, technology and innovation in Panama, celebrates the work of this group of professionals in the field of civil and structural engineering, as well as the impact on future generations contributing to the strengthening of human resources through academic collaboration and knowledge transfer. During the awards ceremony Dr. Ruben Berrocal, National Secretary of Science, Technology and Innovation, extended an invitation to the honorees for international collaboration with Panamanian civil engineers in scientific and technological projects. "We recognize these international experts for their efforts in research and development and contributions to development of the Canal; they are not only contributing in the field of civil and structural engineering, but they are also impacting the lives of future generations around the world," Berrocal said.
The event was attended by authorities of the ACP and former prominent scholars of inter-national scholarship programs sponsored by SENACYT, some of whom have been students of the awardees. This activity SENACYT reinforces its commitment to the strengthening of human resources in Panama.
(Translated from: https://www.facebook.com/pages/Senacyt-Panamá/154346197968745 )
Published May 4, 2012