National Engineering Magazine Names Dr. Link as One of Top 25 in Nation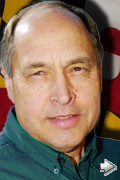 The editors of the national engineering and construction magazine ENR (Engineering News-Record) have named Dr. Ed Link, the director of the Interagency Performance Evaluation Task Force (IPET) that is investigating the performance of the levees around New Orleans following Hurricane Katrina, as one of the Top 25 Newsmakers for 2006.
With his inclusion in this prestigious group of 25 nationally recognized engineers, Link will be in consideration for ENR's individual Award of Excellence for 2006, the magazine's highest honor, which will be presented in New York on March 28.
Link, a Senior Fellow and Senior Research Engineer in Civil and Environmental Engineering at the University of Maryland, is the Director of the Task Force.
IPET, established by the U.S. Army Corps of Engineers, is comprised of over 150 of the nation's leading experts from various government agencies (federal, state and local), universities, and private industry. These engineers and scientists represent more than 50 different organizations.
Click here for the official news release.
Published February 2, 2007