Dr. Ed Link is a Candidate for ENR Individual Award of Excellence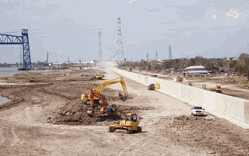 Faced with an urgent need to understand why New Orleans flood protections failed to save the city from Hurricane Katrina, the U.S. Army Corps of Engineers tapped University of Maryland civil engineering professor Ed Link to lead the inquest. The result is a landmark, nine-volume analysis of the catastrophe that has been widely praised for its clarity and even-handed thoroughness.
The report, produced by the Interagency Performance Evaluation Task Force of 150 engineers and scientists that Link directed, cuts through confusion, and draws tough conclusions, including the Corps¹s own contribution to the systemic failures. The IPET report lays out the physical facts behind the catastrophe in a tour de force of analysis. But its most significant contribution may rise from future application of the risk-based project evaluation methodology the team developed while dissecting the disaster. The approach leverages the powers of supercomputers and simulation modeling, and if applied to help policy makers prioritize work and secure funding, has the potential to systematically reduce the risk from natural disasters anywhere.
With his inclusion in this prestigious group of 25 nationally recognized engineers, Link will be in consideration for ENR's individual Award of Excellence for 2006, the magazine's highest honor, which will be presented in New York on March 28.
Published February 2, 2007