Michael Maness Selected as NTC@Maryland Student of the Year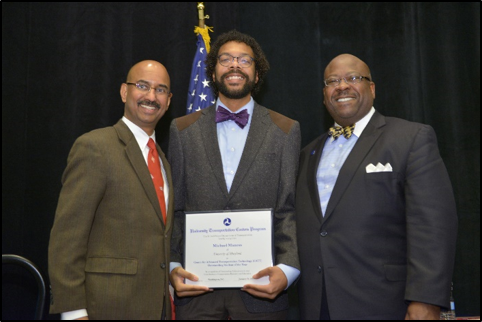 Michael Maness is a PhD candidate at the University of Maryland studying transportation engineering. He earned undergraduate degrees in Civil Engineering and Computer Science from the University of Maryland in 2009 and then began graduate studies focusing on transportation engineering. Michael has been a three-time Eisenhower Fellow and a Bridge to the Doctorate fellow. His research interests are primarily in the methodology and application of behavioral modeling in transportation. His dissertation work examines the effect of informational conformity on cycling behavior as well as the implications of limited social network data on discrete choice models of social interactions.
Michael's publication history includes research on survey design for measuring dynamic household preferences for clean vehicle technology as well as studying value-of-time for managed lanes using non-parametric discrete choice models. Michael recently ended a one-year graduate research fellowship at FHWA's Turner-Fairbank Highway Research Center studying the application of new active traffic and demand management (ATDM) methodology for operations planning.
Michael has been active on campus with leadership roles as the president and vice-president of his department's Graduate Student Council and is currently the secretary of the school's ITS-ITE student chapter. Additionally, he has represented his fellow graduate students as a graduate student government representative, University Senate committee member, and member of his department's chair search committee.
Michael's quality of academic work and research accomplishments and his service work for his school contributed to his selection as the Student of the Year for the NTC at Maryland.
Published February 25, 2015