Science Seeks Mi's Vision on New Membrane Technology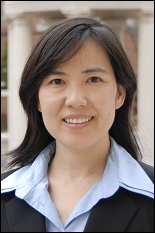 Department of Civil and Environmental Engineering Assistant Professor Baoxia Mi was recently invited by Science to write a Perspective article on the significance and future directions of the emerging graphene-based membrane technology. The article, titled "Graphene oxide membranes for ionic and molecular sieving," appeared in the February 14, 2014 issue of Science.
Mi's article is a response to a research report by the group of Professor Andre Geim, winner of the 2010 Nobel Prize in Physics for his groundbreaking work on graphene.
According to Science, a Perspective article is solicited by its editors to "provide context for the findings within a field or explain potential interdisciplinary significance" and "add a fresh dimension to the research" that is published in Science.
"I am honored to write a Perspective for Science," said Mi, who directs the University of Maryland's Membrane Innovation Lab and has been working on graphene oxide membranes over the past years, "and I am also glad that Science has recognized the significance of the graphene-based membrane technology."
According to Mi's article, the graphene oxide membrane holds great promise as a next-generation ultrathin, high-flux, and energy-efficient membrane for precise ionic and molecular sieving in aqueous solution, with potential applications in numerous important fields such as water purification, desalination, hydrofracking water treatment and energy production, in addition to biomedical and pharmaceutical applications.
Mi's research on graphene oxide membranes recently won her a National Science Foundation Faculty Early Career Development (CAREER) award for her proposal titled "Graphene-enabled synthesis and surface modification of water separation membranes.
For more information on Mi, visit her faculty webpage.
Published February 21, 2014