Engineering News-Record Honors CEE's Galloway for Dedication to Water Infrastructure, Resiliency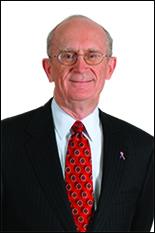 The Engineering News-Record recently named Department of Civil and Environmental Engineering (CEE) Glenn L. Martin Institute Professor of Engineering Gerry Galloway the recipient of the 2015 Mid-Atlantic Legacy Award.
The Legacy Award is given by Engineering News-Record editors to individuals who have achieved a lifetime "legacy" of service to the construction and design industry, to their specific profession, and to the communities in which they live. Each year, the publication names Legacy Award recipients from each of its 10 regions.
"Anytime you receive an award, you know that the recognition you are getting is the result of the work of so many others," Galloway said. "I have been fortunate to work with top-quality people and in superb organizations with great leaders. This ENR Legacy Award makes that case. I owe so much to so many for their support over my 58 years in the profession."
Honored for his decades-long dedication to water infrastructure, resiliency, and related policies, Galloway received the award during a ceremony in Baltimore, Md., on Nov. 6, 2015.
In highlighting Galloway's award, Engineering News-Record's Jim Parsons wrote, "Galloway's lengthy resume includes nearly 38 years of service in the Corps, ranging from Vicksburg District engineer to representing the agency at forums examining Hurricane Katrina and new directions for disaster management. He also held teaching and academic leadership appointments at his alma mater—the U.S. Military Academy—and the National Defense University. Moreover, Galloway has spent time in the private sector; served on numerous water resources-related advisory boards and committees; and collected an impressive collection of awards and honors."
Under President Bill Clinton, Galloway served seven years as an appointee to the Mississippi River Commission. In academia, one of Galloway's earlier roles was that of dean of the faculty and academic programs at the Industrial College of the Armed Forces, National Defense University. He was elected to the National Academy of Engineering in 2004 and to the National Academy of Public Administration in 2008. Today, in addition to his role as research professor with CEE, Galloway is an associate with the department's Center for Disaster Resilience.
"Gerry is widely recognized as the most astute thinker in water resources and management. He has unrelentingly poured himself into the more difficult challenges we face," CEE Senior Research Engineer Ed Link told Engineering News-Record. Link himself was honored with ENR's Award of Excellence in 2007.
Read the full Engineering News-Record article online.
Published January 19, 2016