Galloway Elected to National Academy of Construction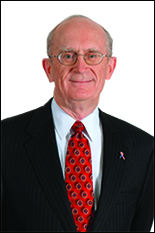 On Oct. 23, the National Academy of Construction (NAC) inducted Department of Civil and Environmental Engineering (CEE) Research Professor and Glenn L. Martin Institute Professor of Engineering Gerry Galloway into the 2015 NAC class.
Twenty-six inductees were named this year, of more than 250 industry leaders considered for NAC's rigorous nomination and election process.
Galloway, also an affiliate professor with the University of Maryland School of Public Policy, holds degrees from the U.S. Military Academy at West Point, Princeton University, the Army command and Staff College, Pennsylvania State University, and the University of North Carolina. He is an expert in water resources management and public involvement in natural resources and climate-related decision-making and resilience building.
Galloway consults with international, federal, state, and non-governmental agencies on water projects in the U.S., Asia, and South America. He chaired a National Research Council study on levees and the National Flood Insurance Program. He is a member of the National Academy of Engineering, the National Academy of Public Administration, the National Academies Resilience Roundtable, the Louisiana Governor's Advisory Commission on Coastal Protection and Restoration, and the Maryland Coast Smart Council. He served with distinction in the U.S. Army for 38 years, retiring as Dean (Chief Academic Officer) at the U.S. Military Academy at West Point.
The National Academy of Construction, established in 1999, is an organization of industry leaders― construction users, engineers, designers, constructors, consultants, attorneys, sureties, and academics― who have made outstanding contributions to the engineering and construction industry. In addition to being a personal honor, election to the Academy allows members to volunteer their expertise to a variety of organizations, governmental and nongovernmental, for the betterment of the industry as a whole.
Published November 11, 2015