Baecher Addresses Nuclear Regulatory Commission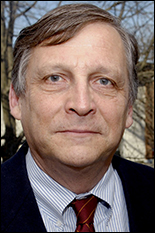 Department of Civil and Environmental Engineering professor and University of Maryland Center for Disaster Resilience associate Gregory Baecher addressed the Nuclear Regulatory Commission on Oct. 21, 2015.
Baecher's presentation was titled, "Next Generation of Risk Analysis in Dam Safety."
Baecher's principal area of work addresses the reliability of civil infrastructure and project risk management, especially in geotechnical and water resources engineering. He is co-author with D.M.D. Hartford of Risk and Uncertainty in Dam Safety, published in 2004. Baecher was a senior member of the Interagency Performance Evaluation Task Force's (IPET) Risk and Reliability Team, and was the leader on its reliability analysis. He is a member of the National Academy of Engineering and has published numerous books and papers on risk for civil infrastructure.
Published October 22, 2015