Dr. Gabriel Gave a Keynote Talk in Berlin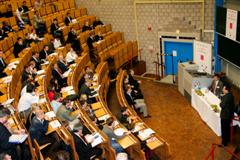 Dr. Steven Gabriel was a keynote speaker at Infraday conference on applied infrastructure research in Berlin, Germany at the Technische Universität Berlin. He gave his talk on October 6, 2007 entitled " Modeling Infrastructure and Network Industries: Theory and Applications".
Click here for the full size photo.
Published October 11, 2007