Clark to Receive OPAL Award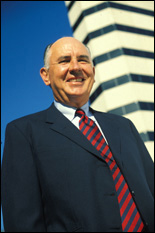 The American Society of Civil Engineers will present Clark School alumnus and benefactor A. James Clark, '50, with the OPAL 2006 Lifetime Achievement Award for construction later this month.
The award recognizes and honors a civil engineer for innovation and excellence in construction of civil engineering projects and/or programs.
Clark, a member of the University of Maryland College Park Foundation Board of Trustees, is the chairman and CEO of Clark Enterprises, Inc. (CEI) in Bethesda, Md.
Clark Construction has transformed the physical environment in the region and beyond. Notable area projects include building the National Museum of the American Indian, the Performing Arts Center at Strathmore Hall, the Washington Convention Center, the Automated People Mover at Washington Dulles Airport, the International Monetary Fund Headquarters, the U.S. Department of Transportation Headquarters and National Archives II near the UM campus.
Clark has given major gifts to name the school of engineering and to establish scholarships for students in need.
OPAL stands for Outstanding Projects and Leaders. The American Society of Civil Engineers instituted the OPAL Awards in 2000 to recognize the lifetime achievements of civil engineers whose contributions have greatly enhanced the health, safety and economy of our nation and the world.
The award will be presented at a gala at the Ronald Reagan Building and International Trade Center in Washington, D.C., on April 26.
Published April 17, 2006