Clark School Provides Bridge-Monitoring Solutions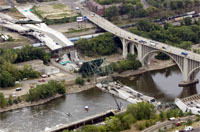 Advances in wireless sensor technology are making warning systems to prevent tragedies like the 2007 Minneapolis bridge collapse affordable and practical, say Clark School engineers. A new generation of these devices is needed to adequately monitor the nearly 150,000 U.S. highway bridges - about one in four - listed by the federal government as either "structurally deficient" or "obsolete," the researchers add.
For the complete story, please see the University of Maryland Newsdesk article.
Published August 6, 2012