Clark School Honors Innovator Krizek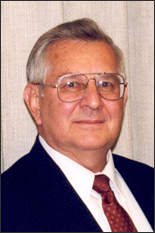 UPDATE:
Read
Krizek's remarks
as he was inducted into the Innovation Hall of Fame.
On October 4, the Clark School inducted alumnus Raymond Krizek, M.S. '61, civil engineering, into the Innovation Hall of Fame in a ceremony at the Kim Engineering Building attended by campus leaders, faculty, staff, students and past Hall of Fame inductees.
Krizek was presented with a medallion commemorating his induction and a panel describing his work was revealed.
Krizek has made essential contributions to geotechnical engineering and the field of slurry mechanics, creating the standards that guide such environmentally challenging projects as marine dredging, port management, and island restoration in the Chesapeake Bay and around the world.
Past Innovation Hall of Fame inductee Angel P. Bezos, B.S. '79, electrical engineering, was present at the ceremony and received his medallion as well. He was inducted in 1994 along with fellow alumnus Emilio A. Fernandez for many innovations for the railroad industry.
The Innovation Hall of Fame induction ceremony was followed by the Charles and Helen White Symposium where work related to Krizek's innovations was the topic.
View a photo gallery from the event online
Published October 5, 2007