CEE's Dr. Gerald Galloway On NPR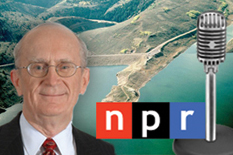 Civil and Environmental Engineering Department's Dr. Gerald Galloway was featured on NPR this morning talking about the flood in the midwest.
Here is an excerpt from the NPR interview:
"After the huge floods in 1993, a few Midwestern states got together with the Army Corps of Engineers to draw up a plan to build higher levee walls along the Mississippi River. The plan could have helped limit the amount of flooding the region is now seeing. The final draft of the report was released in February. But it doesn't look like the federal government will fund it."
Please click here for the complete interview.
Published June 27, 2008