Better Roads, Safer Driving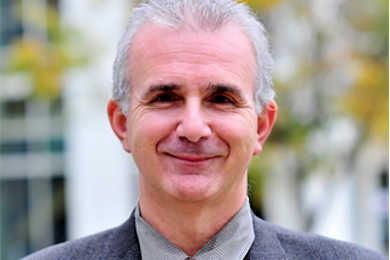 A smooth and safe drive depends on good-quality pavement. If the roadway is cracked, rutted, bumpy, or pothole-infested, the result can be damage to vehicles. It can also cause accidents, as rainwater pools in the ruts and hollows, increasing the risk of hydroplaning.
Pavement quality depends on the materials being used and how well they perform over time. Measuring that performance, however, isn't an easy task. For close to two decades, state agencies have used different methodologies, with varying degrees of success.
"The approaches tend to be either too simple or too complicated," said Dimitrios Goulias, associate professor of civil and environmental engineering at the University of Maryland (UMD). Too simple means not enough variables are being monitored to produce accurate results. Too complicated means so many variables are measured that the process becomes cumbersome and creates as much noise as it does information.
With support from the Maryland State Highway Administration and the Federal Highway Administration, Goulias and UMD civil and environmental engineering doctoral student Anjuman Akhter have set out to develop a more workable approach–one that locates the happy medium between the simplistic and the overly complex. As Goulias explains, "we're looking for a balance. Our goal has been to identify which specific variables and processes will work in measuring the performance of these mixes, and then to incorporate these measurements into the design. This is called Balanced Mix Design."
"We look at the volume, density, and mass of the different ingredients, and then we factor in the critical performance criteria that can result in failures. We then identify an appropriate testing process," he said. Using this approach, Akhter and Goulias have tested and evaluated more than eighteen types of pavement mixtures.
"Our goal has been to identify which specific variables and processes will work in measuring the performance of these mixes, and then to incorporate these measurements into the design."
Work on the project was conducted at the civil and environmental engineering department's Whiting-Turner Infrastructure Laboratory, with additional tests at SHA facilities. The team's balanced mix design approach is being considered for adoption by several agencies in the US for asphalt mixtures for roadway construction. Shadow construction projects"are being currently examined for assessing the methodology and fine-tuning the acceptance threshold criteria.
Meanwhile, Goulias and Akhter will present their findings at the Transportation Research Board annual meeting in January 2023. A lectern session is organized and chaired by Goulias showcasing the lessons learned around the U.S. with the balanced mix design.
Drivers can expect a number of tangible benefits in the future as pavement performance is measured more accurately, Goulias said. "Roadways will last longer and be in better condition, with little or no cracking and rutting. Less maintenance will be required, so you'll see fewer work zones and closed-off lanes. Less required maintenance also means lower costs to the state, and ultimately the taxpayer," he said.
A UMD civil and environmental engineering faculty member since 1999, Goulias has partnered frequently with state agencies on projects related to highway and bridge materials, pavement structures, quality control and risk analysis, and incorporation of recyclable and/or sustainable materials. Much of his recent work has focused on the development of "green highway" systems with a smaller emissions footprint compared to traditional approaches.
Recently, Goulias visited the experimental labs at Bydgoszcz University in Poland, and with PhD student Yunpeng Zhao presented their research findings at the 2022 EcoSET international conference. Goulias and his collaborators presented and published several papers on the potential use of rock sand and rock dust, which is more sustainable in comparison to cement, in roadway construction and repair. The research was carried out in collaboration with colleagues from Poland and Turkey, with work from additional papers appearing in the Sustainability and Materials Journals.
Published December 19, 2022