ASCE Maryland Hosts Inaugural "Suit Up & Be Civil" Event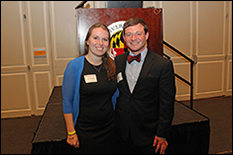 On Monday, March 2, nearly 160 civil engineering professionals, students, alumni and University of Maryland (UMD) civil engineering faculty gathered under one roof for the inaugural "Suit Up & Be Civil" event, organized by UMD's chapter of the American Society of Civil Engineers (ASCE Maryland).
The near-capacity crowd kicked things off with an opening networking reception featuring a dozen sponsor organizations, many of which currently employ UMD Department of Civil and Environmental Engineering (CEE) alumni and students. Following the reception, attendees were served dinner as they heard from ASCE Maryland President Jonathan Schneider and Event Coordinator Jamie Richardson, as well as representatives of Archer Western, Clark Construction, Forrester Construction Company, O'Connell & Lawrence, Inc., and Whiting-Turner.
Keynote speaker, David S. Thaler, President of DS Thaler & Associates, Inc., then enthralled the crowd with a presentation on what he refers to as, "Sprawlburbia" in America.
"The current model of suburban development [in America] is unsustainable," Thaler cautioned. "Suburbia is no accident, but it is the result of manifest public policy embodied in our zoning codes, our road codes, and our other regulations and laws."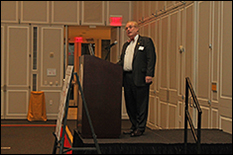 Thaler, a Fellow in both the American Society of Civil Engineers and the National Society of Professional Engineers, opened his presentation by sharing his experiences traveling up and down I-95 along the East Coast, noting that much of the development he saw is common across the country, and can be described as "sprawling" and "car-dominated."
"What, after all, is so wrong with sprawl?" he asked, revisiting a question posed during one of his recent lectures. For many outside the realm of engineering, sprawl – a process whereby the spread of development across a landscape outpaces population growth – would seem to carry a solution for traffic congestion and gridlock. Instead, Thaler stated, "The most damning case against sprawl is that it actually creates traffic.
"It's almost a miracle that gridlock can be created from such low-density zoning and development," he continued. "It's because, the further things are spread out from each other, the more each of us must drive to get back and forth. And, so, the number of vehicle miles driven per year grows far beyond our ability to build new roads. Anyone who thinks that transportation in the next 25 years will be the same as it was in the past 25 years is dreaming."
The increase in traffic will create more congestion and gridlock, thereby forcing area residents to drastically alter the way they live – requiring civil engineers to rethink the model of development, Thaler said.
"We aren't stuck in a traffic jam – we are the traffic jam," he said. "New roads are justified to relieve congestion; however, you cannot spend your way out of traffic problems. New roads actually create congestion. Sooner or later, if the diet of suburban development doesn't change, the roads will clog up again."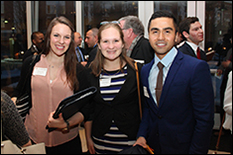 Enter, today's budding engineers.
"Communities should be designed at least as thoughtfully for humans as they are for cars," Thaler said. "We need public policies that, at least, permit narrower roads, mixed uses, parallel parking, and communities worth caring about. And it's you, ladies and gentlemen, the young members of the civil engineering profession, who I believe should lead the way."
ASCE Maryland would like to extend its gratitude to all of this year's attendees and sponsors, especially:
Photos from the event are available online.
Published March 3, 2015