UMD Alumni Cup Zeroes In on Fundraising Goal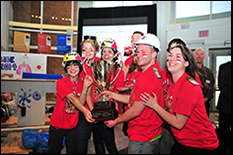 One of the most popular events developed by the Engineering Alumni Network Board Student Outreach Committee, the Alumni Cup is an annual engineering design competition where teams of students from each department compete against one another in a weeklong challenge to develop a machine that will perform a specific task within certain parameters.
Today, Alumni Cup supporters are asked to consider donating to the Alumni Cup Launch UMD campaign to help continue this tradition. The Department of Civil & Environmental Engineering (CEE) has had a strong showing over the past two years – taking first place at both the 2014 and 2013 Alumni Cup competitions. The below video provides an inside look at the Alumni Cup competition and features several members of the CEE team.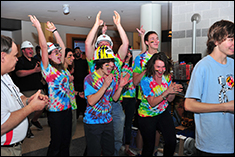 Alumni Cup Video
Alumni cup teams are judged on the machine's effectiveness in completing the task within the parameters given, a demonstration within the design of the team's respective discipline, an oral presentation and rough sketches in correlation to the design, and team spirit.
The goals of the event are to:
Teach students teamwork skills, innovation and creativity through a fun, competitve event
Provide an applied learning experience for students by motivating and challenging students to connect the concepts learned in class to real world situations
Connect students with professionals in the field and UMD alumni
Build community at the Clark School
The Engineering Alumni Network believes that providing students with applied learning and career-preparatory experiences is vitally important in helping students develop the academic and professional skills necessary to becoming successful engineers.
The Alumni Cup helps bridge the gap between academic, classroom-based learning and the real world skills required as an engineer.
What started as a small event with a few students has grown to hundreds of students and alumni in crowds filling the Kim building rotunda several people deep. The Alumni Cup is now one of the most popular events at the Clark School, providing students with a fun and challenging applied learning experience and networking opportunity.
Published November 19, 2014