Alum's Gift Honors Inspirational Professor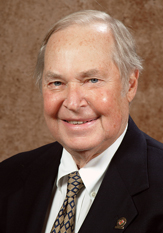 A gift of $625,000 by Charles E. Waggner (B.S. '54, chemical engineering) has established the Deborah J. Goodings Professorship in Engineering for Global Sustainability. The professorship will provide annual support for a salary supplement, programming and research for a professor (to be named) in the Clark School's Department of Civil and Environmental Engineering.
Waggner, a successful engineer with a long career in the petrochemical field, was inspired by former Clark School professor Deborah Goodings and her leadership of the University of Maryland chapter of Engineers Without Borders (EWB). Waggner is a member of the Clark School's Board of Visitors—through which he became aware of Goodings and EWB—and provided funds to support an EWB regional conference here in 2008. He also established, with his wife Joan, the Charles E. and Joan M. Waggner Endowed Scholarship Fund in 1999.
"In addition to honoring Deborah Goodings, this important professorship reflects Chuck Waggner's commitment to the Clark School and its students, to the service mission of Engineers Without Borders and to sustainable development," said Clark School Dean Darryll Pines.
Goodings joined the Clark School faculty in 1981. She was a professor of civil and environmental engineering, served as the EWB faculty advisor and was a co-director of the university's Master of Engineering and Public Policy program. She departed the Clark School this summer to chair the civil engineering department at George Mason University in Northern Virginia.
EWB provides real-life experiences in which students build engineering projects and help developing communities. Under Goodings's guidance the university's EWB chapter sent groups of students to various locations in Asia, South American and Africa to bring sustainable energy, sanitary and water solutions to developing areas in those regions.
One of the chapter's current projects is in Dissin, Burkina Faso, West Africa. In January, a student team will travel there to install a pumping system currently being designed and tested on the College Park campus.
This is not the chapter's first work in Burkina Faso.
Earlier this year, students from the EWB chapter worked on a project much closer to home, building a bioretention facility in Edmonston, Md., to help prevent rainwater runoff and pollution in the Anacostia River (press release online).
To learn more about the University's Great Expectations campaign and how you can make a difference in the Clark School's progress, please contact Leslie Borak.
Published November 17, 2009