Vlachou, Swaroop win FAA graduate research awards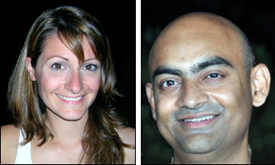 Two graduate students associated with the National Center of Excellence in Aviation Operations Research (NEXTOR) have received Federal Aviation Administration graduate research awards for 2011-2012. Graduate student Kleoniki Vlachou received the grant for the topic, "Equitable Resource Allocation Mechanisms During Reduced Airspace Capacity," while Prem Swaroop will be researching "Service Expectations Setting in Air Traffic Flow Management: A Consensus-Building Mechanism." The $10,000 grants are part of the 2011 Graduate Research Award Program on Public-Sector Aviation Issues. The award is administered by the Airport Cooperative Research Program (ACRP) of the Transportation Research Board/National Academies. Vlachou is a fifth-year Civil and Environmental Engineering Ph.D. student advised by Associate Professor David Lovell (CEE/ISR). Swaroop is a fourth-year Robert H. Smith School of Business Ph.D. student advised by Professor Michael Ball (BMGT/ISR).
About NEXTOR
NEXTOR was created in 1996 as one of five FAA Centers of Excellence leading the aviation community in advancing new ideas and paradigms for aviation operations, educating and training aviation professionals, and promoting knowledge transfer among industry, government and academic leaders. NEXTOR has carried out a broad research program encompassing a wide range of programs and topics of vital interest to the FAA and the airline industry. NEXTOR looks to develop an understanding of how National Airspace System (NAS) service providers and users will respond to alternative system architectures, operational concepts, investment strategies and finance mechanisms. The knowledge and capabilities gained from this government-sponsored research program provide critical information to executives and senior government officials on a host of issues ranging from near-term investment choices to long-term strategies. Since NEXTOR's inception in 1996, the Institute for Systems Research (ISR) has been the home for University of Maryland NEXTOR researchers and has actively supported the NEXTOR research program and its events.
Published September 26, 2011