UMD Clark School to Host Mpact Week: Disaster Resilience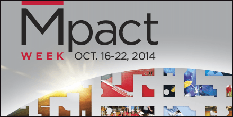 The University of Maryland's A. James Clark School of Engineering will host its second annual Mpact Week, a five-day event showcasing research, education, and innovations, October 16-22, 2014, on its College Park campus. This year's theme is Disaster Resilience and the role engineers play in developing innovative solutions to help prevent, mitigate, and respond to disasters.
In the last decade, an increasing number of natural and human-caused disasters have led to major financial losses and human casualties across the globe. In 1953, there were 13 federal disaster declarations issued. A half century later, that annual number has quadrupled. Last year, the Federal Emergency Management Agency (FEMA) issued more than one major disaster declaration per week. Disasters such as Hurricane Katrina, the Deepwater Horizon oil rig explosion, Superstorm Sandy, and Typhoon Haiyan have cost billions in damage and killed thousands, and a lack of preparedness for these disasters has made the losses worse.
Clark School of Engineering researchers are actively engaged in initiatives to help our national and international communities prepare for disaster scenarios, addressing areas as far-reaching as coastal infrastructure, fire resilience, energy, pandemic outbreaks, cybersecurity, unmanned aircraft systems, and other technologies aimed at providing solutions to disaster resilience applications.
Mpact Week will feature insightful presentations and remarks from distinguished scholars, experts, and thought leaders from the White House, FEMA, the National Institute for Standards and Technology, the Centers for Disease Control and Prevention, the U.S. Army Corps of Engineers, the University of Illinois, the Ohio State University, Pennsylvania State University, as well as the University of Maryland, regarding the power of research and innovation to help address these international challenges. Mpact Week events are co-sponsored by the American Society of Civil Engineers, the Big Ten Committee on Institutional Cooperation, and the University of Maryland Division of Research.
The schedule of Mpact Week events is as follows:
Thursday, October 16, 2014
Fischell Festival in Bioengineering: Biomedical Emergency Response
Jeong H. Kim Engineering Building
Friday, October 17, 2014
Morning Session: UAVs and Robotics for Disaster Response
Afternoon Session: Resilient Communications
Jeong H. Kim Engineering Building
Saturday-Sunday, October 18-19, 2014
University of Maryland Homecoming Weekend Activities
College Park Campus
Monday, October 20, 2014
Energy Solutions for Mitigating the Effects of Climate Change
NOAA Center for Weather & Climate Prediction, College Park, MD
Tuesday, October 21, 2014
"Research on the Hill" Event on Disaster Resilience:
Disaster Resilience: The Intersection of Research and Policy
Room HVC-201, US Capitol Visitor Center, Washington, DC
Co-Sponsored by the University of Maryland Division of Research and The Big Ten Committee on Institutional Cooperation
Special Related VTOL UAS Workshop: http://ter.ps/vtoluas
Wednesday, October 22, 2014
Morning Session: Multi-Hazard Resilience
Afternoon Session: Coastal Infrastructure
Jeong H. Kim Engineering Building, College Park, MD
Learn more and register for Mpact Week: clark.umd.edu/mpact
Published September 9, 2014