Tropical Tree Fibers Can Hold Battery Power, Say UMD Engineers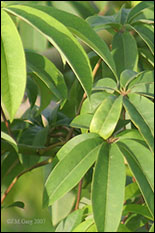 Energy-producing bacteria can nest in hollow conductive fibers
Research by UMD Department of Materials Science and Engineering (MSE) faculty member Bing Hu (UMERC and NanoCenter), MSE postdoctoral research associate Hongli Zhu, and their colleagues at the University of Colorado-Boulder, was recently featured in the news section of Materials Today, an Elsevier journal.
The article described how "Light, fluffy fibers from the Kapok tree, which grows widely in tropical regions, could make the ideal electrode for a new generation of microbial fuel cells (MFCs)." According to Materials Today:
"Because] the fibers are hollow, they provide double the surface area for bacterial colonization.
"Raw kapok fibers are simply formed into a paper-like arrangement by vacuum filtration and then carbonized in a tube furnace in an atmosphere of Ar (95%) and H2 (5%) to render them conductive. The researchers used the carbonized and uncarbonized fibers as electrodes in single-chamber air-cathode MFCs and compared the performance to traditional carbon cloth.
"'The direct carbonization of low-cost and naturally available hollow Kapok fiber provides an advantageous alternative to non-renewable solid macroporous carbon cloth electrodes,' explains Hu. 'It is much cheaper, lighter, and has much higher gravity energy density.'"
Read the entire article at Materials Today.
Image: J.M. Garg via Wikimedia Commons
Published October 8, 2014