Tribute to Catherine Dolan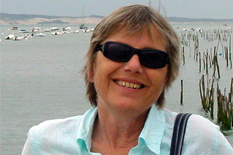 It is with great sorrow that we at the Center for Advanced Transportation Technology (CATT) announce the passing of long-time staff member, Catherine Dolan. Catherine passed away on February 11, 2009 after fighting a heroic 10-year battle with cancer.
Catherine was a member of the Center for Advanced Transportation Technology (CATT) staff for over nine years, most of which she spent working as an instructional designer for CITE's web-based courses. During this time, Catherine became an expert at developing wide-ranging animations and graphics, as well as structuring and adapting text-based course materials to an interactive distance-learning format. The courses she developed were predominantly focused on Intelligent Transportation Systems (ITS), and addressed a variety of transportation, management, systems engineering, and safety-related topics. Catherine's devotion, not only to CITE, but to the overall mission of the CATT, was unwavering. Even during her many cancer treatments she fought so hard against, Catherine continued working remotely from her home or hospital bed. She had an incredible zest for life and her dedication to her work was highly regarded by all.
Catherine's credentials and accomplishments were many and varied. Before working with CITE, she was an instructor in undergraduate French at the University of Maryland, College Park. Using departmental textbooks, Catherine devised all lesson plans, quizzes, exams, and pedagogical activities for beginning, intermediate and advanced levels (1986-1989). She had a Ph.D and an M.A. in Linguistics from the University of Maryland, along with a B.A. in Russian and Political Science from the State University of San Francisco.
Catherine leaves behind many friends and relatives, including her husband, John, a marine biologist at the Laboratoire d'océanographie de Villefranche and two daughters, Maya and Kate. The Civil and Environmental Engineering department extends its deepest condolences to her entire family. She will be sorely missed both personally and professionally.
Condolences to the family may be sent to:
The Dolan Family
84 Bd. Carnot
06300. Nice
France
Donations may be made in Catherine's memory to her favorite charities:
Doctors Without Borders/Médecins Sans Frontières (MSF)
An international medical humanitarian organization working in more than 60 countries to assist people whose survival is threatened by violence, neglect, or catastrophe.
Amnesty International
A worldwide movement of people who campaign for internationally recognized human rights for all.
Published February 19, 2009