Transportation and Equity: Connecting the Dots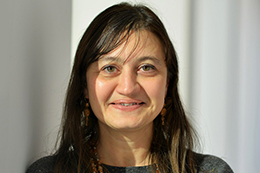 Starting this past September, users of the DASH bus system in Northern Virginia have benefited from a new perk: free fares. It's part of an experiment aimed at incentivizing greater use of public transportation—and making it more accessible to lower-income riders. The cost and availability of public transportation is one of the many transportation-related hurdles that affect lower-income Americans and contribute to socioeconomic inequities, notes University of Maryland (UMD) professor Cinzia Cirillo, an expert on transportation demand analysis, forecasting, and planning, and the lead researcher on a project designed to evaluate the results of the DASH experiment.
In the following interview, Dr. Cirillo highlights some of the ways in which transportation policies can exacerbate inequality—and what steps can be taken to counter the problem.
What are some of the most significant ways in which transportation can contribute to inequity?
Certain policies and programs are known to exacerbate inequity. With toll roads, for example, the fee may be acceptable to higher-income people, but unaffordable to those with lower incomes. As a result, entire groups of people are effectively prevented from making use of public infrastructure. Other examples include imposing taxes on gasoline, increasing the price of public transportation, or eliminating services.
The decisions we make about where to build transportation infrastructure can also have adverse impacts. A highway built through a neighborhood can become a barrier and create social exclusion, as has happened in a number of cities.
Among transportation researchers and policymakers who are interested in promoting greater equity, what solutions are attracting the greatest interest?
Much of the attention is being focused on two main areas: making services less expensive for lower income people, and improving the quality and accessibility of services. In Alexandria, Virginia, for instance, DASH has modified its network to cover more locations and increase the frequency of service, and they have also instituted free fares on DASH buses, as of September. They hope in this way to attract more people to public transportation and increase ridership, and at the same time improve accessibility for lower-income riders. My role is to monitor the changes in behavior that occur as people adapt to the new situation, and to quantify the benefits.

Do you see an expanded role for public transportation in the future?
Public transportation makes sense in a dense area, like the DMV. It doesn't make sense, given the density, that our public transportation options are so limited.
Public transportation makes sense in a dense area, like the DMV. It doesn't make sense, given the density, that our public transportation options are so limited. The frequency and availability of services can and should be increased: for example, services that are currently limited to peak hours could run at other times as well. This is easy to do, doesn't cost a lot of money, and will attract more riders.
Another step that has proven to be successful is to create dedicated bus lanes in commuter corridors. We want to make buses an attractive alternative: they're not just a lesser option for people who can't drive their own car. If we maintain a high quality of service and lower the cost, people will see the benefits: you can get to work on time, without the stress of driving in congested traffic, and you'll save money. Providing this level of service is achievable.
What are some of the ways in which the COVID-19 pandemic has exacerbated transportation-related inequities?
At the height of the COVID-19 pandemic, many stations were closed and services were curtailed. That created great hardships for the front-line workers who depend on these services and who did not have the luxury of working from home. They not only had to face health risks because of the need to travel to their jobs, but they also faced difficulties in getting there due to the cutbacks in service.
What are some other projects you've worked on that relate to transportation and equity?
My team has also conducted research on the need for evacuation of lower-income people during natural disasters. There is a strong correlation between being low-income and not having a car. Very often, evacuation orders assume that the evacuees will leave using their own cars—but, as we saw in the case of Hurricane Katrina, this can result in leaving many people stranded, without a way to get out. In our project, we were able to predict how many people in a given scenario did not have cars, thus enabling authorities to organize alternate means of transit.
Another project focuses on the role transportation plays in determining accessibility to jobs. In the past, lower-income people who lived in Washington, D.C. had access to Metro and could get to their jobs. But these populations are now being pushed out of D.C. into the surrounding counties, such as Prince George's, where there is less public transportation. Jobs today tend to center around certain corridors, many of which are hard to reach by bus or Metro. As a result, access is lost.
Published December 13, 2021