The First RAC International Conference Termed A Success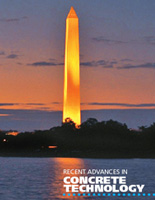 The First International Conference on Recent Advances in Concrete Technology (rac07) was held, 19-21 September 2007 in the Washington, DC area at the Sheraton in Crystal City, Virginia. The conference was a success with delegates coming from twenty four different countries from North America, Asia, Europe, Africa and Australia. Several alumni, students and faculty of the Department of Civil and Environmental Engineering at the University of Maryland attended the conference. The first photo shows outstanding paper award winners Dr. Dimitrios Goulias and Dr. Chung C. Fu with General Chair of the conference Amde M. Amde.
The second photo shows (from left to right): Research Assistant Sushant Upadhyaya, PhD Candidate Megan Filo, Dr. Dimitrios Goulias, General Chair of the conference Dr. Amde M. Amde, Alumnus Dr. Jorgomai Ceesay, Dr. Chung C. Fu and Alumnus Dr. Abdol R. Chini.
Dr. Chini received his PhD with Amde and is currently Professor and Director at University of Florida. Other participants from the Department not shown in the picture include: Haejin Kim, Dr. Kleio Avrithi, Sayed Sameer, Dr. Benjamin Graybeal, Ernest A. Larmie, Nicolas McMorris, Dr. Amal Azzam and Hung Khong.
The main objective of the conference was to bring together all those who share a common interest in this subject area, to promote international communication of new ideas, developments and innovations. The book published by the conference is a compilation of about eighty papers on recent advances in concrete technology.
The conference was organized by the University of Maryland, Howard University and CI-Premier Pte Ltd of Singapore with the support of several organizations including, the Federal Highway Administration, the Northeast Cement Shippers Association, the National Institute for Standards & Technology, the Portland Cement Association, the National Ready-Mix Concrete Association, the National Association of Home Builders Research Center, the National Capital Chapter of ACI, the South East Cement Association, the TRB Committee on Durability of Concrete and iSMARTi (Portugal).
On another note, Dr. Amde M. Amde was invited to be part of the US delegation sponsored by the National Science Foundation to participate in the International Based Materials and Civil Infrastructure in Karachi, Pakistan. Additionally, he was invited to serve on the International advisory Committee and to give a keynote paper at the ICACC 2008 international conference in Hyderabad, India.
Published December 3, 2007