Summer camp provides authentic engineering experiences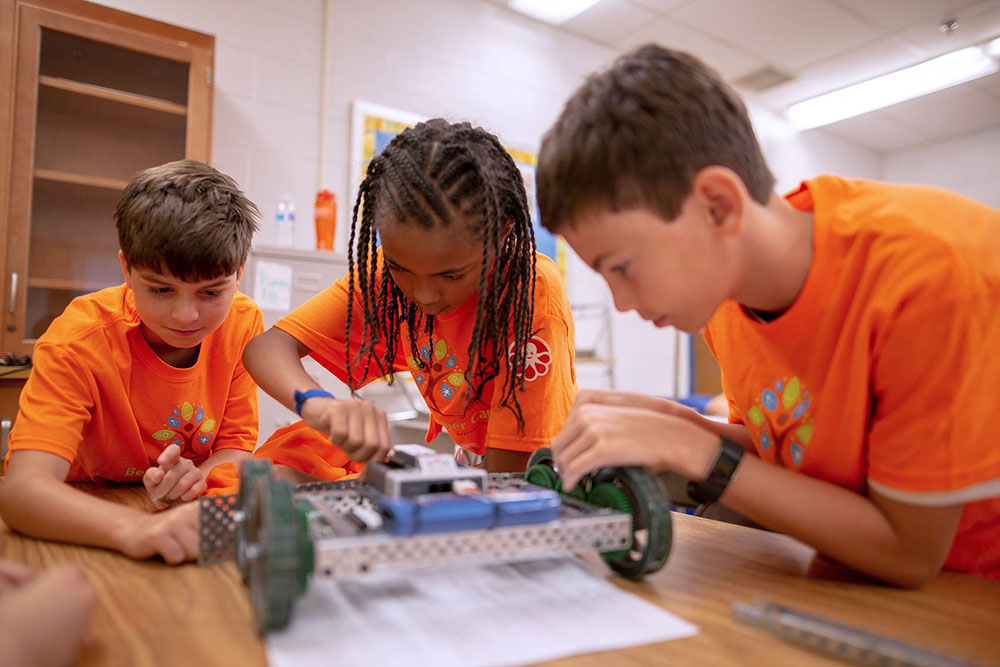 Michael Addis, a 2015 Master of Engineering (MEng) graduate, sees a need for summer camps that do more than provide kids with fun activities related to STEM topics. That's why he and two colleagues launched the BeSTEM!! Summer Camp program, which offers full-immersion camps designed to create an authentic engineering experience.
Following a successful inaugural season in 2018, BeSTEM! will again offer its four robotics camps for kids aged 9-14 again in summer 2019 (for more information, or to register, visit the program's website).
"The goal was to create an environment where campers could see how science and mathematics are used to make decisions about engineering design elements while simultaneously meeting the requirements of the problem," Addis explains.
Often, the bulk of engineering work centers around designing and troubleshooting. For that reason, Addis says, "we give campers the experience of seeing their designs materialize through prototyping." For example, in one of the four camps, the kids are tasked with building a robot to restore a beach that is experiencing high erosion rates after a hurricane. At the end of the week, campers submit a written proposal that demonstrates their robot's effectiveness on the mock beach that was constructed in the classroom."
"We are teaching without testing and to accomplish that we chase those 'Ah Ha!' moments when things click for kids," Addis explains. "As engineers and educators, it is hard to describe just how satisfying the feeling is when a kid feels at peace with their own competence. As their confidence goes up, their engagement increases and they desire to take on bigger challenges."
The experience has been transformative for Addis as well.
"Seeing how students flourish in tackling some of the most challenging physics, math and robotics challenges when placed in a project-based learning class [is] life changing; you begin to see a level of learning that is often missing in traditional settings," he says.
Addis and his two co-founders, Omari Sarjeant and Jurgen Tabaku, met while working together at the Walter Reed Army Institute of Research. All three were involved in its Educational Outreach Program, which promotes STEM to students through mentorship. The group felt that they could improve on the STEM camps currently offered in their area—hence the decision to launch BeSTEM!.
In their first year of operation, the group was able to offer all four of their camps without sponsors and provide full scholarships to 36% of participants. Moving forward, they plan to expand their curriculum and offer camps in more locations. If you or your organization are interested in donating or partnering with them you can visit their website at www.BeSTEMCamp.com or send them an email at support@BeSTEMcamp.com.
Published April 12, 2019