Pack Receives "Champion of Change" Award from White House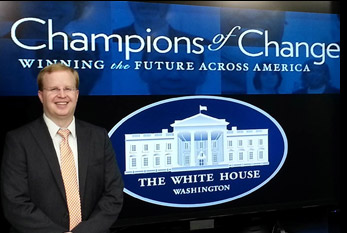 On May 8, 2013, the White House recognized Center for Advanced Transportation Technology Laboratory (CATT Lab) Director Michael L. Pack as a Transportation "Champion of Change." The White House Office of Public Engagement and the U.S. Department of Transportation hosted the event on "Transportation Technology Solutions for the 21st Century."
The Transportation "Champion of Change" program recognizes honorees for their "exemplary leadership in developing or implementing transportation technology solutions to enhance performance, reduce congestion, improve safety, and facilitate communications across the transportation industry at the local, state, or national level."
Driving transportation innovation at the CATT Lab, Pack focuses on improving transportation operations, management, and communications. His work is enabling more efficient use of government resources ­­— allowing researchers and transportation professionals to dedicate more energy towards solving important transportation problems through data and user-friendly analytics tools.
He serves as the creative director of the Regional Integrated Transportation Information System (RITIS), an automated transportation sharing, dissemination, and archiving system that improves communications efforts between traffic management and transit agencies.
Pack also chairs the Visualization Committee of the National Academies of Science Transportation Research Board, and as a career public servant, strives to change the way agencies think about sharing information and the importance of visual communications.
In a May 8, 2013 press release from the White House Office of Communications, Secretary of Transportation Ray LaHood stated, "These Champions represent the very best in American leadership, innovation, and progress. I'm proud to recognize these transportation leaders who work every day to grow our economy and help us reach our destinations more quickly, efficiently, and safely."
Transportation champions are not new to Civil and Environment Engineering. Alumna Veronica O. Davis '01, P.E., was recognized as a Transportation "Champion of Change" in 2012 for founding Black Women Bike and her contributions to various Washington D.C. transportation boards.
Pack and fellow "Champions" selected from around the United States were honored during a ceremony held at the Eisenhower Executive Office Building in Washington, D.C. on May 8, 2013.

"I'm particularly excited to receive national attention for the work that we've been doing over the years," said Pack. "Our research isn't just advancing transportation alone, but moving towards enabling thousands of other researchers around the world to do great things. It's especially rewarding to have our peers in the industry recognize our achievements."
To see Michael Pack's Champions of Change blog post, visit the Champions of Change website.
For more information on Michael Pack, visit: http://www.cattlab.umd.edu/?page_id=12
For more information on the work being done at CATT, visit:
http://www.catt.umd.edu/
For more information on Champions of Change, visit:
http://www.whitehouse.gov/champions
Published May 10, 2013