Glenn L. Martin Wind Tunnel Featured in the News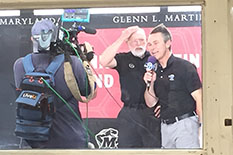 On July 16, 2018, the University of Maryland held its annual Wind Tunnel Media Day, which offers reporters a chance to experience hurricane-force winds firsthand. The event brought weather reporters from various national and regional television networks to UMD's Glenn L. Martin Wind Tunnel (GLMWT), a state-of-the-art low speed wind tunnel that has been actively involved in aerodynamic research and development since 1949.
Reporters also had the opportunity to talk to the following experts: Jewel Barlow, Glenn L. Martin Wind Tunnel director and associate professor of aerospace engineering; Allison Reilly, Center for Disaster Resilience researcher and assistant professor of civil and environmental engineering; Will Miller, a Ph.D. candidate studying hurricanes in UMD's Department of Atmospheric and Oceanic Sciences; and Matt Scassero, University of Maryland Unmanned Aircraft Systems Test Site director.
More than 2,200 tests with over 300 distinct clients have been conducted at the GLMWT to date. With a speed range of 2 to 230 miles per hours (Mach Number 0 to 0.3), winds in the GLMWT are generated by a large 2250 HP turbine that features blades from B-29s. Over the last 30 years, GLMWT has regularly been used to test automobile aerodynamics, including almost all of the Ford Motor Company's scale-model tests. In addition, it has hosted tests for planes—from ultralights to jet fighters to commercial airliners—and other airborne vehicles and devices, including helicopters, missiles, and parachutes. It has also seen its share of more unusual vehicles, including a hovercraft and the Pride of Maryland solar-powered car.
Recent media coverage of UMD's Glenn L. Martin Wind Tunnel is included below:
WUSA9
UMD high powered wind tunnel can mimic hurricane winds
https://www.wusa9.com/video/news/local/maryland/umd-high-powered-wind-tunnel-can-mimic-hurricane-winds/65-8191421
WJLA Channel 7
Bill Kelly at University of Maryland's Wind Tunnel for 'Weather on the Go'
http://wjla.com/news/local/bill-kelly-at-university-of-marylands-wind-tunnel-for-weather-on-the-go
Sinclair Broadcast Group/Circa News
What is it like to stand in the middle of a hurricane?
https://www.circa.com/story/2018/07/16/whoa/what-its-like-to-be-in-a-hurricane
NBC 16 KMTR
Watch: Reporter stands in 100 mph wind tunnel to simulate hurricane
https://nbc16.com/news/watch-reporter-stands-in-100-mph-wind-tunnel-to-simulate-hurricane
Published July 27, 2018