Dr. Stuart Milner Receives Grant From NSF's EAGER Program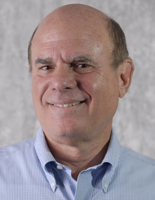 Civil and Environmental Engineering's Dr. Stuart Milner recently received a $149,687 grant from the National Science Foundation EAGER (EArly-concept Grants for Exploratory Research) program.
The program funds high risk, high reward basic research that is potentially transformative. The grant is entitled, "Physical Systems Dynamics for the Characterization and Control of Complex Wireless Networks".
The research, which is collaborative with Dr. Christopher Davis, ECE, uses a non-traditional and interdisciplinary approach to investigate the self-organizing capabilities of next generation wireless networks, using physics-based models and tools that draw on the dynamics of multiple-connected atoms forming a molecular network. This exploratory research project is aimed at the creation of a novel framework for the characterization and control of next generation dynamic wireless networks based on modeling communication networks as physical systems whose robustness is dictated by fundamental physical principles (such as potential energy) that drive the evolution of systems in nature by making them adaptive and robust against their environment.
Published October 8, 2009