Dr. Lovell Receives National EWB Award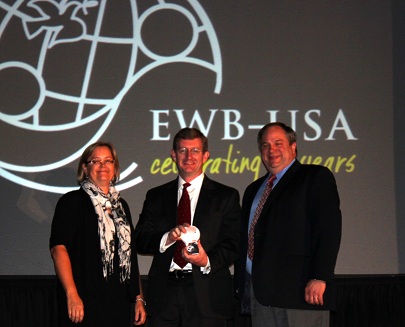 BOULDER, CO – Dr. David Lovell, professor of civil engineering at the University of Maryland, College Park, has been named the 2012 recipient of the "Peter J. Bosscher Faculty Advisor Award for Outstanding Leadership" by Engineers Without Borders USA (EWB-USA).
The award was presented on Saturday, March 24, during the 10th Anniversary celebration of EWB-USA held in conjunction with the Ninth Annual EWB-USA International Conference, which took place in Las Vegas, NV.
The award recognizes faculty advisors within EWB-USA who provide outstanding leadership and mentorship to their student chapter. It is named for the late Peter J. Bosscher, who was an EWB-USA faculty advisor at the University of Wisconsin-Madison in addition to being actively involved with the national organization.
Dr. Lovell has been working with EWB at the University of Maryland since 2004, leading students on trips to assess and implement sustainable engineering projects in Burkina Faso, Ethiopia, and the Pine Ridge Indian Reservation. He is currently the faculty adviser to the EWB-USA UMCP student chapter. He also serves on the EWB-USA Faculty Leadership Council, and was recently elected as chair of that body. He serves on the EWB-USA Technical Advisory Committee for the Southeast Region.
Dr. Lovell earned a B.A. degree in Mathematics from Portland State University in 1990. He also earned M.S. and Ph.D. degrees in Civil Engineering from the University of California at Berkeley, in the years 1993 and 1997, respectively. He has been teaching at the University of Maryland since 1997. He currently holds a joint appointment with the Department of Civil and Environmental Engineering and the Institute for Systems Research. His research efforts focus mainly on transportation engineering, with applications in facility design, operations, and aviation traffic management. He has also conducted research on sensors, vehicle electronics, electrophoretic materials, and probabilistic studies in sports tournaments.
EWB-USA is a non-profit humanitarian organization established to partner with developing communities worldwide in order to improve their quality of life. The partnership involves implementing environmentally and economically sustainable engineering projects, while involving and training internationally responsible engineering professionals.
The organization, which grew out of a project by the University of Colorado-Boulder in Belize in 2000, has more than 275 chapters and more than 12,000 members. EWB-USA has more than 350 projects in more than 45 developing countries around the world, including water, renewable energy and sanitation. The projects are completed in partnership with local communities and non-governmental organizations.
The University of Maryland, College Park chapter of EWB-USA, which has approximately 150 members, began in 2004 with projects in Thailand and the Pine Ridge Indian Reservation. It has since completed numerous projects in Thailand, Ecuador, Peru, Brazil, Burkina faso, and Ethiopia.
About Engineers Without Borders USA (EWB-USA)
EWB-USA is a nonprofit humanitarian organization established to support community-driven development programs worldwide through partnerships that design and implement sustainable engineering projects. EWB-USA members comprised of professional and student engineers or other disciplines, work with local communities and NGOs in over 45 developing countries around the world on projects such as water, renewable energy, sanitation and more. EWB-USA has grown from little more than a handful of members in 2002 to over 12,000 members today and has over 350 projects worldwide. EWB-USA maintains over 275 dedicated chapters, and has touched the lives of more than two million people. For more information about EWB-USA please visit www.ewb-usa.org.
Published March 27, 2012