Davis Contributes Expertise to ASCE, EPA Initiatives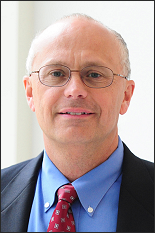 A leading researcher on urban stormwater management and physiochemical treatment processes, Department of Civil and Environmental Engineering Professor Allen P. Davis was recently named to two initiatives focused on advancing research to improve water quality in the United States.
Most recently, Davis was named the inaugural editor for the American Society of Civil Engineers (ASCE) Journal of Sustainable Water in the Built Environment.
With its first publication slated for January 2015, the new Journal will serve as a home for the discussion of sustainable water issues in the built environment. The online journal will also feature original research and case studies that have specific applications to engineering practice.
Developed through a multi-council committee of the Stormwater Infrastructure Committee and Urban Water Resources Research Council, the Journal of Sustainable Water in the Built Environment will publish contributions on topics such as urban stormwater quantity, quality, treatability and impacts; water harvesting and rainwater beneficial use; low-impact development and green infrastructure and water policy.
According to ASCE, journal editors work to "establish and maintain the highest possible standards of technical and professional quality" as noted in the Ethical Standards for ASCE Journals.
Davis Named Investigator for EPA Center
In addition to being appointed inaugural editor for ASCE's Journal of Sustainable Water in the Built Environment, Davis has also been named a principal investigator for a new $2.2 million U.S. Environmental Protection Agency center awarded to the University of South Florida (USF).
The Center for Reinventing Aging Infrastructure for Nutrient Management (RAINmgt) was established to address the impact of nutrient pollution from wastewater and stormwater runoff in efforts to reduce pollution, improve water quality in coastal urban areas and reimagine aging coastal urban infrastructure systems for nutrient recovery and management. RAINmgt's ultimate goal is to develop the science behind new technology and management innovations while providing new knowledge for students, community members and other stakeholders.
Davis contributed extensive research on maximizing nitrogen removal from stormwater using bioretention projects—special strips of greenery that capture and filter storm runoff before it enters the watershed.
Such technologies offer major improvements to help curb water pollution and could one day be used by housing developments or businesses to reduce their environmental footprints, Davis said.
Davis is one of 14 investigators affiliated with RAINmgt.
For more information on Davis and his research, visit his faculty webpage.
Published March 6, 2014