Clark School students land prestigious NOAA scholarships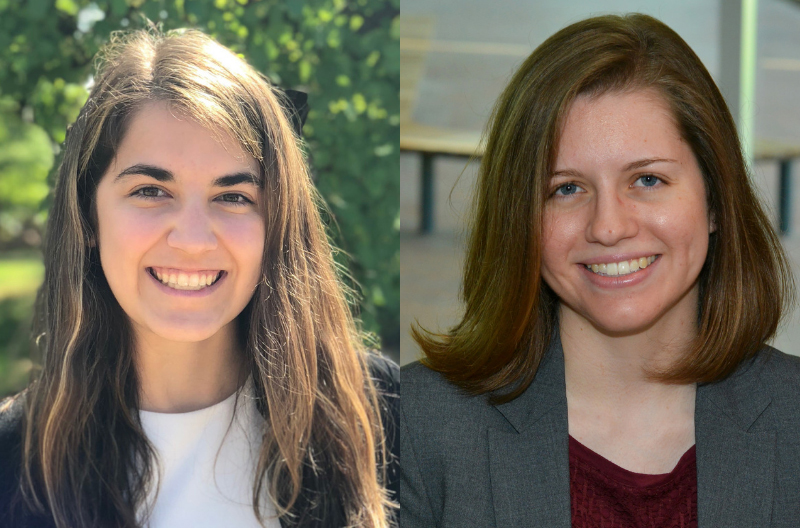 Two sophomores at the University of Maryland's A. James Clark School of Engineering have won National Oceanic and Atmospheric Administration (NOAA) Hollings Scholarships, gaining valuable opportunities to build up their research expertise and help address some of today's most pressing environmental concerns.
Jessica Boyer, a student in the Fischell Department of Bioengineering (BIOE), and civil and environmental engineering student Amanda O'Shaughnessy were each awarded the scholarship, which provides $19,000 of financial assistance over the course of two years, as well as professional development opportunities including a paid summer-after-junior-year internship.

Boyer, who ultimately hopes to help tackle environmental problems such as contaminated marine ecosystems and deteriorating coastal health, plans to apply the scholarship to advance her study of biomaterials applications in natural systems.
"I was excited to see that NOAA does work with water quality and waterway bioremediation, especially as it pertains to pharmaceutical nanoparticles, oil spills, algal blooms, and other human-related environmental stressors," she said.
O'Shaughnessy, meanwhile, is focused on stormwater management and runoff control. "NOAA researchers have been exploring the connections among rising sea levels, stormwater management, and coastal restoration. I'm very interested in the ways in which these factors combine," she explained.
She aspires to follow her undergraduate education with a master's degree and eventually help forge policies and best practices. The Hollings Scholarship, she says, will help her achieve that goal. "Through the program, I'll be able to conduct research and then present it," O'Shaughnessy said.
Both Boyer and O'Shaughnessy are actively involved with the CEE department's environmental engineering laboratories. Working with Professor Birthe Kjellerup, Boyer will be collaborating with a postdoctoral researcher and researchers from South America to process salt marsh samples from the El Huasco saline lake in northern Chile.
O'Shaughnessy works with Professor Allen Davis on inorganic pollutant tests and rainfall simulations. Combining a background in art with her engineering studies, she has also created several graphics and illustrations for an environmental engineering textbook.
The Hollings Scholarship, named for the late U.S. Senator Ernest Hollings, recognizes outstanding undergraduates who are studying in NOAA mission fields. One of its goals is to increase public understanding and support for stewardship of the ocean and atmosphere. Rising juniors in four-year undergraduate programs and rising seniors in five-year programs within the STEM sector and other majors are eligible for the award.
Published May 30, 2019