Civil and Environmental Engineering Students Win 2014 Alumni Cup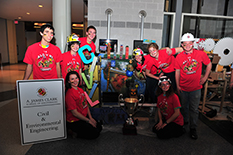 On a rainy Friday afternoon, an enthusiastic crowd of students, faculty, staff and alumni lined the spiral staircase in the Jeong H. Kim Engineering Building to watch the 2014 A. James Clark School Alumni Cup. And, for the second consecutive year, the students from the Department of Civil and Environmental Engineering (CEE) took home first place.
The Alumni Cup is an annual engineering design competition that was started in 2012 by the University of Maryland Alumni Association, Engineering Chapter. The event takes place each year during National Engineers Week, a weeklong celebration held to increase awareness of the field for the general public, students, educators and parents.
A week before the Alumni Cup, teams of undergraduate students from each of the Clark School's eight academic departments were tasked with designing a machine that could move a CD/DVD at least two feet, insert it into a CD/DVD drive and play the contents of the CD/DVD. Given a small stipend, the teams were able to design, build and test their machines before the competition.
After three exciting rounds, the panel of judges announced the CEE team as the winners with the best overall design, presentation and team spirit.
Published February 15, 2014