Championing Our Nation's Water Resource Infrastructure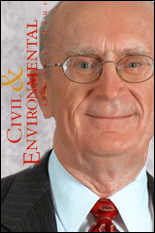 Every day we turn on faucets, use electrical power harnessed by dams, and gain water from nearby reservoirs, but we seldom think about the infrastructure that carries our drinking water or harnesses a river's power for electricity until the water stops flowing or the lights go dark.
Department of Civil and Environmental Engineering Glenn L. Martin Institute Professor Dr. Gerald Galloway thinks about these critical issues every day, and it is why he is often called on to testify on the importance and state of our water resources infrastructure.
On July 25, 2013, Galloway testified before the U.S. Senate Committee on Energy and Natural Resources on the "Aging US Water Infrastructure: A Badly Neglected National Problem." Galloway, an outspoken advocate for our nation's water resources and regular consultant for a number of national and international government organizations, made a presentation on the current challenges the nation faces with its water infrastructure.
In his presentation to the Senate Committee, Galloway discussed the current state of our country's water infrastructure, the extent to which it supports our society, and how it is consistently underfunded and overlooked. He identified the primary areas of concern facing our water resources, including an aging infrastructure, a changing climate, increasing energy demands, a lack of funding, and a short sighted view on the importance and cost of repairs.
According to Galloway's report, the U.S. contains 87,000 dams, 40,000 miles of levees, over 8,000 miles of irrigation canals, 54,000 drinking water systems, over 14,000 municipal waste treatment facilities, 12,000 miles of commercially navigable channels with over 200 locks, and almost a 1,000 commercial and smaller ports and harbors.
Despite the wide scale use and economic value of this infrastructure to the U.S. economy and U.S. residents, this extensive network averages only an overall D+ grade based on the American Society of Civil Engineers' (ASCE) 2013 Report Card for America's Infrastructure. This ASCE report card grades the current state of national infrastructure annually on a scale of A through F.
Galloway also reported ASCE's estimate that funds in excess of $3.6 trillion dollars would be needed to correct deficiencies and modernize existing water and other infrastructures, much of which was built in the early part of the last century and is reaching the end of its projected life span. However, based on historical funding for these types of projects, there would be a $187 billion dollar funding gap over the next seven years between the funding needed versus the funding granted.
The recent water pipe explosion in the Washington D.C. suburbs of Prince George's County demonstrates the impact that an aging infrastructure can have on an area's residents, and according to the Washington Post, this explosion was one of nine that have occurred since 1996.
While age is taking a toll on our nation's water resources infrastructure, Galloway also illustrated the potential impacts that climate change may have on an already taxed network. Citing a Federal Advisory Committee Draft Climate Assessment, Galloway indicates that global warming could impact our water resources infrastructure due to an increase in droughts, floods, precipitation changes, and the rising sea level. According to Galloway, "Everything built now was built for yesterday's conditions, not tomorrow's," and the climate changes brought on by global warming will require that new and existing infrastructure be built and repaired with those challenges in mind.
During a phone interview, Galloway points to New York City Mayor Michael Bloomberg as an example of forward thinking when looking to the future of water resource infrastructure. In the wake of Hurricane Sandy, in June 2013, Bloomberg called for a $20 billion flood risk reduction effort of the city that would include not only a system of flood barriers to protect New York's low-lying areas, but also non-structural "green" activities such as relocation of those most at risk, planting more trees and vegetation to manage rain-water runoff and on-site storage of some flood waters.
In addition to a shifting climate, the changing landscape of human populations and the increasing demand for energy and resources places yet another burden on water resources management. Galloway points out that there is a 'substantial link between water and energy.' To produce energy requires water, and to produce water supplies requires energy. Hydropower, while only supplying 8 to 12 percent of the nation's energy, provides critical services in many areas of the country in addition to providing a base power supply and peaking power during periods of high energy demand.
Inland waterways, such as rivers and canals, also provide transportation routes for energy supplies. Because these routes are often in remote locations, they provide a transportation system that keeps potentially volatile cargo away from dense populations.
Despite the ability to identify the elemental and structural challenges facing our water resources infrastructure, the greater challenge may lie in our nation's ability to develop a comprehensive program that can address such a diverse system. Our water resources infrastructure is spread across county, state, and federal lines, including 25 government agencies, and owned through both public and private domains.
Galloway cites the U.S. Department of Transportation and the Interstate Highway system as an example of how water resources management could be functioning at a national level. In order to comprehensively address the challenges facing our nation's water resources, there must be increased collaboration among private, state, and federal organizations as well as a comprehensive and holistic approach to issues of funding, research, assessment, maintenance and construction to create integrated water resources management.
While there are a number of challenges facing our nation's water resources infrastructure, strides are being made to improve the future of these resources. New techniques that utilize natural resources such as floodplains and coastal wetlands to mitigate flooding impacts, store rain and flood waters, and provide natural filtration could ease the burden on existing infrastructure and provide more flexible solutions for future problems.
For more information on Dr. Gerald Galloway and his research, visit his web profile.
Read Dr. Galloway's complete report to the Subcommittee on Water and Power US Committee on Energy and Natural Resources, 'Aging US Water Infrastructure: A Badly Neglected National Problem.' [PDF]
Published August 19, 2013