CEE's Dr. Gregory Baecher Appears On The Kojo Nnamdi Show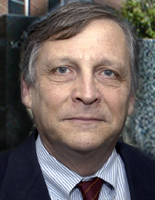 CEE's Dr. Gregory Baecher, G.L. Martin Institute Professor of Engineering and a member of the Water Collaborative at UMD, appeared on the nationally syndicated Kojo Nnamdi Show on local DC station WAMU on May 21, 2008 discussing the widespread occurrence of geological sink holes in the Washington area over the past few weeks, and the impact on residential and transportation infrastructure.
In the week leading up to May 21, a major sinkhole in limestone formations near Frederick, MD closed I-70 for many hours; and a sinkhole in gravelly and sandy Upland Shore deposits near Andrews Air Force Base destroyed four houses. These phenomena are due to a combination of geological conditions and groundwater flows.
Streaming recordings of the broadcast are available at http://wamu.org/programs/kn/.
Published May 30, 2008