CEE's Dr. Gerry Galloway Named 2008 Fellow-Elect by NAPA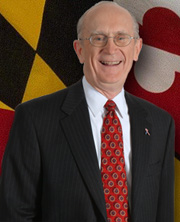 The Board of Directors of the National Academy of Public Administration (NAPA) recently announced the results for the new Directors and Fellows Elections. Civil and Environmental Engineering department's faculty member, Dr. Gerald Galloway, was named a 2008 Fellow-elect. A formal press release is forthcoming. Congratulations to all!
DIRECTORS ELECTED IN 2008
Gail C. Christopher
Timothy B. Clark
Diane M. Disney
J. Christopher Mihm
Gregory Lashutka
Cindy L Williams
FELLOWS-ELECT IN 2008
Chinua Akukwe
Chair, Technical Advisory Board
Africa Center for Health and Human Security
George Washington University Medical Center
Barry B. Anderson
Head, Budgeting and Public Expenditures Division Organization for Economic Co-operation and Development
Daniel G. Blair
Chairman
Postal Regulatory Commission
U.S. Postal Service
Cheryle A. Broom
King County Auditor
King County Auditor's Office
Washington State
Robert A. Burton
Partner
Venable LLP
John M. Colmers
Secretary of Health and Mental Hygiene
State of Maryland
Lawrence S. Cooley
President
Management Systems International
Suzette Denslow
Deputy Director of Policy and Legislative Director
Office of the Governor
Commonwealth of Virginia
Mark A. Emmert
President
Office of the President
University of Washington
William T. Fujioka
Chief Executive Officer
County of Los Angeles
Gerald E. Galloway,
Glenn L. Martin Institute Professor
Department of Civil and Environmental Engineering
University of Maryland
Olivia Golden
Senior Fellow
The Urban Institute
George E. Hardy, Jr.
Public Health Practice Consultant and Professorial Lecturer
School of Public Health and Health Services
George Washington University
Edmund "Kip" S. Hawley
Adminstrator
Transportation Security Administration
U.S. Department of Homeland Security
Peter C. Hutchinson
President
The Bush Foundation
Rogan Kersh
Associate Dean for Academic Affairs
Wagner Graduate School of Public Service
New York University
Albert J. Kliman
Consultant
National Academy of Public Administration
Martha Joynt Kumar
Professor
Department of Political Science
Towson State University
Robert J. Lavigna
Vice President for Research
Partnership for Public Service
Charles Alan Lyles
Associate Professor
Division of Goverment and Public Administration
University of Baltimore
Randolph J. May
President and Founder
The Free State Foundation, Inc.
Reginald L. Robinson
President and CEO
Kansas Board of Regents
Nan P. Roman
President and CEO
National Alliance to End Homelessness
Kenneth F. Ryder, Jr.
Consultant
Ryder Analytics, Inc.
Jewel D. Scott
Executive Director
The Civic Council of Greater Kansas City
Sally C. Selden
Professor
College of Business and Economics
Lynchburg College
Alan R. Shark
Executive Director
Public Technology Institute
David R. Smith
County Manager
County of Maricopa, Arizona
Jeffrey D. Straussman
Dean
Nelson A. Rockefeller College of Public Affairs and Policy
SUNY- Albany
Thomas H. Warren, Sr.
President
Urban League of Nebraska
David L. Weimer
Professor of Political Science and Public Affairs
University of Wisconsin- Madison
John M. Yinger
Trustee Professor of Public Administration and Economics
The Maxwell School
Syracuse University
Published January 6, 2009