CEE's Dr. Gang-Len Chang Quoted in American Institute of Physic's Interview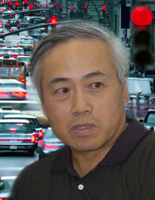 The Department of Civil and Environmental Engineering's Dr. Gang-Len Chang was recently quoted in American Institute of Physics' Discoveries and Breakthroughs Inside Science TV online.
The interview discusses unique approaches to resolving congestion problems at traffic intersections. According to the article, one of the chief triggers for congestion seems to be left turns at traffic signals. University of Maryland's Traffic Safety and Operations lab, headed by Dr. Chang, is leading the fight in dealing with this issue, amongst others.
Click here to the original news item and accompanying video.
Published September 1, 2009