CEE Graduate Students Gulsah Akar And Yue Liu Awarded 2008-09 Ann G. Willey Fellowship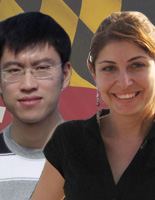 Civil and Environmental Engineering's graduate students Gulsah Akar and Yue Liu have won the 2008-09 Ann G. Wylie Dissertation Fellowship.
The Dissertation Fellowships Program is an initiative of the University of Maryland Graduate School intended to help outstanding graduate students in their final semester of writing their dissertation. The Ann G. Wylie Dissertation Fellowship is a University-wide competitive program. It is based on the quality of the student's work, as well as, the potential contribution of their dissertation to the student's field of research.
Heartiest congratulations to both Gulsah and Yue!
Published May 7, 2008