CEE Alum William J. Wright Honored With 2008 AISI/AASHTO Richard S. Fountain Award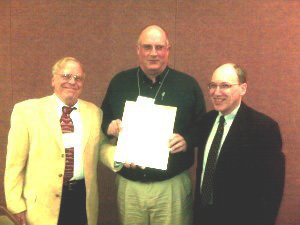 Washington, D.C. - The American Iron and Steel Institute (AISI) Steel Bridge Task Force and the American Association of State Highway and Transportation Officials (AASHTO) Technical Committee for Structural Steel Design have named William J. Wright, Ph.D., P.E. of the Federal Highway Administration's (FHWA) Turner-Fairbank Highway Research Center in McLean, Virginia, as the winner of the 2008 Richard S. Fountain Award. The award is named for the founder of the AISI Steel Bridge Task Force.
The Richard S. Fountain Award is presented annually to recognize leadership in steel bridge research and outstanding efforts to advance AASHTO specifications. Dr. Wright received the award at a recent meeting of the AISI Steel Bridge Task Force from Ed Wasserman, Director of Structures for the Tennessee Department of Transportation and Chairman of the AASHTO-T14 Committee; and Dennis R. Mertz, Professor of Civil Engineering at the University of Delaware and the 2005 Richard S. Fountain award winner.
The award plaque recognizes William Wright's "outstanding contributions to the steel bridge industry through structural research, technical guidance and design code development; particularly your contributions to the introduction of high-performance steels, the 'Unified Approach,' and fatigue and fracture concepts in the design of steel highway bridges."
"As head of the Turner-Fairbank Structures Laboratory for FHWA, Dr. Wright has made invaluable contributions to the advancement of curved girder research and to the successful development of the unified steel girder design specifications, as well as conducting research and funding other research in support of the development and use of high-performance steels," said Alex Wilson, Manager of Customer Technical Services for ArcelorMittal USA and Chairman of AISI's Steel Bridge Task Force.
Dr. Wright is Team Leader for Bridge Design and Construction Research, Office of Infrastructure R&D at the FHWA's Turner-Fairbank Highway Research Center. He has 21 years of steel bridge research experience and has worked on several failure investigations involving bridge collapse. He joined the FHWA in 1988, and is a key technical expert on issues related to the design, fabrication, construction and inspection of structural steel for highways. His direction of the national pooled fund research project to conduct full-scale testing and comprehensive analytical modeling of curved steel girder highway bridges led to a new AASHTO specification of the design and construction of steel highway bridges.
He was recognized as the FHWA Engineer of the Year for 2002 and has received its Engineering Excellence Award that recognizes outstanding professional achievement. He was also recognized by the National Society of Professional Engineers.
Dr. Wright received a bachelor's degree and master's degree in structural engineering from the University of Maryland, College Park. He received his doctoral degree in civil engineering from Lehigh University. He is a licensed professional engineer in Maryland.
The Richard S. Fountain Award was established in 2001. Past recipients of the award include:
• Donald W. White, Ph.D., Professor of Structural Engineering, Mechanics and Materials at the Georgia Institute of Technology's School of Civil and Environmental Engineering (2007)
• Dean C. Krouse, Independent Consulting Metallurgical Engineer (2006)
• Dennis R. Mertz, Associate Professor, University of Delaware (2005)
• Camille Rubeiz, former Director of Transportation and Infrastructure, AISI (2003)
• Professor Karl Frank, University of Texas at Austin (2002), and
• Mike Grubb, BSDI Ltd. (2001)
AISI's Steel Bridge Task Force was formed more than 40 years ago to coordinate research that establishes safe, cost-effective steel bridges and to implement these developments into steel bridge design codes, specifically the AASHTO design codes. Its members include steel producers, steel fabricators, the AASHTO Technical Committee for Structural Steel Design, university faculty, consultants and representatives from the Federal Highway Administration and National Steel Bridge Alliance.
Recognized by the steel and construction industries for its expertise in developing codes and standards, AISI's work in this area is conducted under the AISI Market Development Committee Construction Market Program, which is supported through the investment of the following AISI member companies:
• AK Steel Corporation
• ArcelorMittal
• ArcelorMittal Dofasco
• IPSCO Inc.
• Severstal North America Inc.
• Steelscape, Inc.
• United States Steel Corporation
• USS-POSCO Industries
AISI serves as the voice of the North American steel industry in the public policy arena and advances the case for steel in the marketplace as the preferred material of choice. AISI also plays a lead role in the development and application of new steels and steelmaking technology, including research directed at reducing CO2 emissions. AISI is comprised of 31 member companies, including integrated and electric furnace steelmakers, and 130 associate and affiliate members who are suppliers to or customers of the steel industry. AISI's member companies represent approximately 75 percent of both U.S. and North American steel capacity. For more news about steel, its applications and to view the current New Steel ad campaign, please visit AISI's Web site at www.steel.org.
Article credit:
DEBBIE BENNETT(dbennett@steel.org)
DAN SNYDER(dsnyder@steel.org)
Published May 16, 2008