CapWIN and Microsoft Team Up to Develop New Windows 8 Applications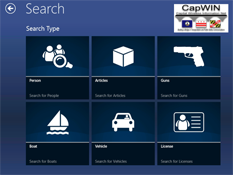 The Microsoft Corporation and the University of Maryland CapWIN Program have been working together to develop a prototype mobile criminal justice (CJIS) query application designed specifically for Windows 8 Tablets. Building on CapWIN's existing secure infrastructure, the new Windows 8 solution will take advantage of Microsoft's new operating system to create a streamlined, tablet oriented interface for mobile officers to access mission critical CJIS datasets. "This solution will provide field officers with a significant new interface to securely access data in the mobile environment," said Roddy Moscoso, Executive Director of the CapWIN Program. "We are delighted to have Microsoft's support in this important effort," he continued. Microsoft has provided direct funding to several design and development partners to create a prototype application, which will meet the strict security requirements for accessing CJIS data in a mobile environment. CapWIN plans to rollout its prototype application in spring 2013. For more information, please contact Roddy Moscoso at rmoscoso@capwin.org.
About CapWIN
The Capital Wireless Information Net (CapWIN) is a program located in the University of Maryland's Center for Advanced Transportation Technology (CATT) that was created by, and continues to operate under the direction of a coalition of law enforcement, fire/EMS, and transportation agencies in Maryland, Virginia, and the District of Columbia to advance data communications across agency, jurisdiction, government, and discipline boundaries. For more information about CapWIN visit www.capwin.org.
Published March 5, 2013