Brian Phillips Recognized for Work with Student Organizations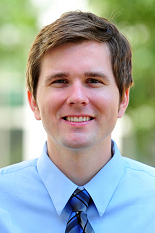 Department of Civil and Environmental Engineering Assistant Professor Brian Phillips has been named the 2016 recipient of the A. James Clark School of Engineering Student Competition Advisor of the Year Award.
"Dr. Brian Phillips has contributed significantly to several student organizations, and his commitment and energy is inspiring his students," explained the selection committee. "Brian's sustained leadership and support of the Clark School students over multiple years makes him a highly deserving recipient of this award."
Dr. Phillips serves as the faculty advisor for the University of Maryland student chapter of the American Society of Civil Engineering. Under his leadership, the group's Concrete Canoe and Steel Bridge teams have won first place at mid-Atlantic regional competitions for two consecutive years, enabling the students to advance to national competitions.
"His wholehearted support is evident in his willingness to travel with the teams, even when a national competition fell just 10 days after the birth of his daughter," added CEE Chair Charles Schwartz.
Published December 3, 2016