Baecher Awarded GEOSNet Distinguished Award for Lifetime Achievement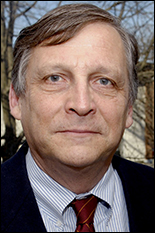 On Oct. 15, Department of Civil and Environmental Engineering Professor Gregory Baecher was awarded the 2015 GEOSNet Distiniguished Award for lifetime achievement. Baecher was recognized for substantial contributions to the geotechnical risk and reliability community in research, education, and leadership.
A specialist in risk management for civil infrastructure - particularly in the water resource and hydropower sectors - Baecher was presented the award during the Fifth International Symposium on Geotechnical Safety and Risk in Rotterdam, Netherlands.
GEOSNet is an international association with a mission to promote, coordinate, and support activities relating to geotechnical safety. The association responds to the need for geotechnical design codes and standards to be harmonized across national boundaries, to rising public expectations for health and environmental safety regulation, and to the increasing complexities of mega-project financial and insurance risk.
More information about GEOSNet is available online at geosnet.geoengineer.org.
Published October 16, 2015