Attoh-Okine Named UMD CEE Chair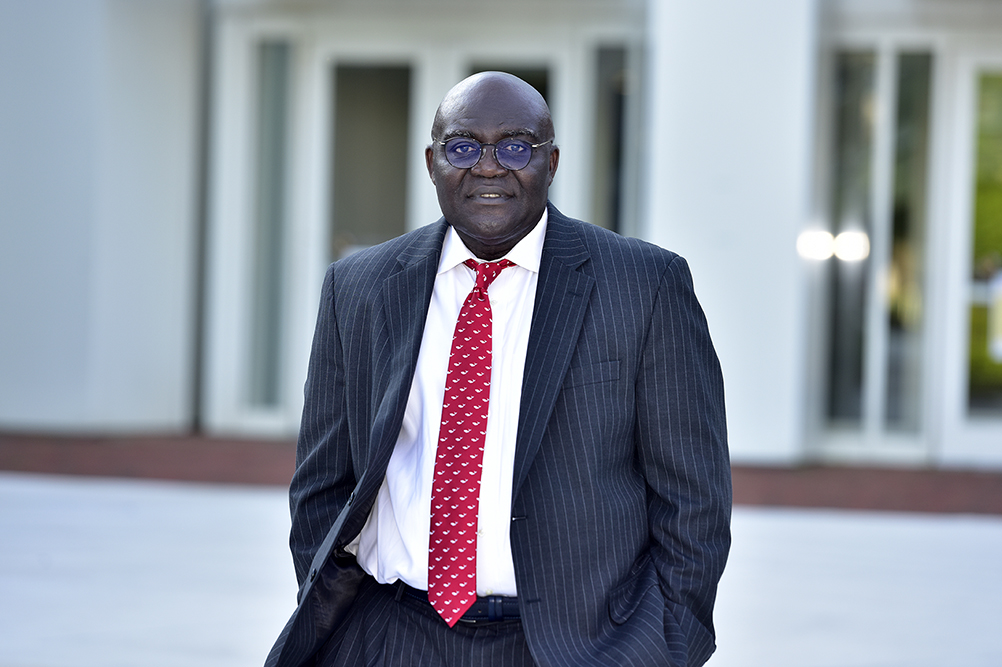 Dr. Nii O. Attoh-Okine, Professor in the University of Delaware's civil and environmental engineering department and an American Society of Civil Engineers (ASCE) Fellow, will be the Clark School's new department chair for civil and environmental engineering. He will take up his new role on September 1, 2022.
"We are excited about Dr. Attoh-Okine joining Maryland Engineering," Clark School Dean Samuel Graham, Jr. said. "Our entire engineering community will benefit from his experience, expertise, and versatility. Civil and environmental engineering at UMD is known for innovation and impact. It is poised to attain new heights under Dr. Attoh-Okine's leadership."
Attoh-Okine will head a department that has established an international reputation in fields that include transportation engineering, disaster resilience, and water resource management. The UMD department is home to the Center for Advanced Transportation Technology Laboratory, which houses the world's largest transportation database, as well as the Center for Disaster Resilience and the Maryland Transportation Institute.
Attoh-Okine's research expertise is in resilient infrastructure, with a strong focus on cybersecurity and digital technologies applied to transportation and civil infrastructure. A well-recognized expert in railway engineering, he also leads efforts in digital twins, cybersecurity, and blockchain technologies applied to civil engineering. He is a member of the National Academy of Science, Engineering and Medicine committee on Safe Transportation of Liquefied Natural Gas by Railroad Tank Car.
He currently holds a joint appointment in electrical and computer engineering at the University of Delaware and, until recently, was also the Interim Cybersecurity Initiative Academic Director. He is a member of the State of Delaware Cybersecurity Council and in addition, served as the lead representative from the university to the Digital Innovation Hub, a US-Japan University Consortium promoting research in digital innovation across multidisciplinary topics. In recognition of his leadership, he was selected as one of only 18 international speakers chosen to attend the G20 Ministerial Meeting held in Japan in 2019.
Attoh-Okine is a founding associate editor of the ASCE/ASME Journal of Risk and Uncertainty Management in Engineering Systems and has served as an associate editor of Journal of Infrastructure Systems, Journal of Computing, Journal of Bridge Engineering, and Journal of Pipeline Systems Engineering and Practice. He has authored two books, "Resilience Engineering: Models and Analysis and Big Data" and "Differential Privacy in Railway Track Engineering." He earned his Diplom Ingineur from the Rostov Institute of Civil Engineering in Rostov-on-Don, Russia and his Ph.D. from the University of Kansas.
Announcing the news, Dean Graham thanked the interim chair of the UMD CEE Department, Alba Torrents. "It has been a pleasure to work with Alba since my arrival at the University of Maryland. Her work has clearly made an impact in the short time she's been in her role," Graham said.
He also thanked UMD mechanical engineering chair Bala Balachandran, who chaired the search committee, and the search commitee members: Natasha Andrade, Calvin Burns, Allen Davis, Constantinos Frantzis, Deb Niemeier, Michael Pack, Allison Reilly, Alan Santos, and Yunfeng Zhang.
Published June 13, 2022