Alumnus and Whiting-Turner CEO Regan to Speak at Spring Commencement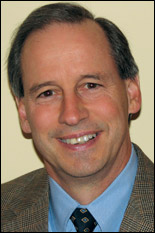 Clark School Alumnus Timothy J. Regan, recently named President and Chief Executive Officer of The Whiting-Turner Contracting Company, will speak at the University of Maryland's A. James Clark School of Engineering Spring 2014 Commencement. The event will be held in the Comcast Center on May 23 at 4:00 pm.
Regan's tenure at Whiting-Turner spans more than three decades. Most recently, he served as Executive Vice President of the company. He is the third CEO in the company's rich, 105-year history. The news of his promotion follows the passing of the company's longtime CEO, Willard Hackerman, who lived until the age of 95, serving nearly 60 years as the firm's President.
A 1977 B.S. graduate in civil engineering, Regan remains close with his alma mater and currently serves on the Clark School's Board of Visitors.
Whiting-Turner employs over 2,300 people in 30 offices throughout the United States, and in 2013, the company brought in approximately $5 billion in revenue. The Baltimore-based com­pany developed several landmark buildings in its home city, includ­ing Harborplace, the Meyerhoff Symphony Hall, and M&T Bank Stadium, home of the Baltimore Ravens football team.
In addition to supporting the Clark School's longstanding Whiting-Turner Business and Entrepreneurial Lecture Series, Whiting-Turner has also supported the Whiting-Turner Internship-Scholarship program, University Incentive Awards, the Charles Irish Professorship, and the Charles Irish Laboratory at the University of Maryland.
Whiting-Turner is also a Clark School Corporate Partner, a sponsor of UMD's 2011 Solar Decathlon Team, host of the annual Clark School Alumni Receptions at the Engineers Club in Baltimore, and contributes the service of many Whiting-Turner Leaders on University of Maryland boards, including the Clark School Board of Visitors.
Published April 16, 2014