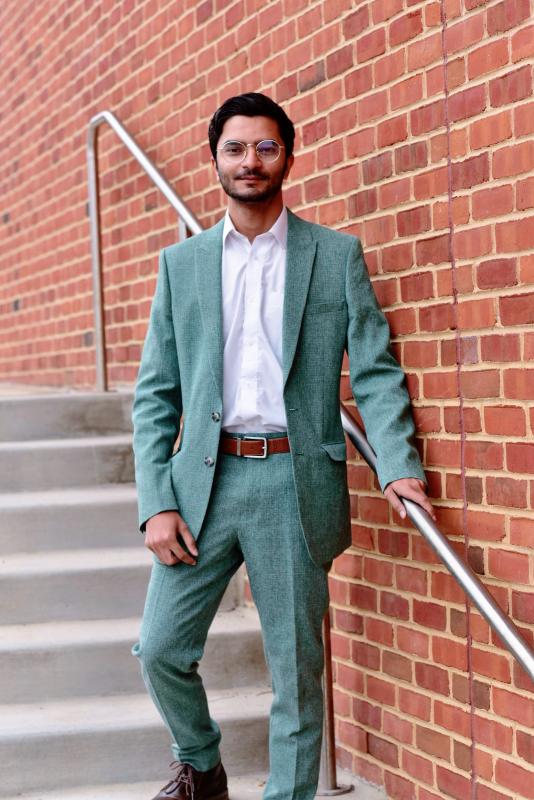 Our whole field is about helping people.
Spring 2022
Haroon Farrukh has always been most interested in what he terms the "social aspect of engineering." "We've lost contact with it, but it's the most important thing. We impact people's day to day lives," he says. Haroon's interest in the social benefits engineering can provide—in giving back to the community, and in building connections within communities-- has shaped all of his college experiences, and still shapes his aspirations for the future.
Haroon knew he wanted to go to UMD for years before starting college. He moved to Maryland from New Jersey while in the middle of high school, already anticipating enrolling at UMD. He cites the great reputation of the Clark School of Engineering as the university's primary draw for him, along with its proximity to D.C. and all the opportunities available there. He began his freshman year in Fall 2018 as a Chemical Engineering major due to his interest in chemistry.  After a discussion with Dr. Natasha Andrade about his interest in solving real-world problems through engineering, he decided Civil and Environmental Engineering was a better fit for him. He is now a senior in the Civil and Environmental Engineering Department, pursuing the Environmental and Water Resources track. He will be graduating this semester in May 2022.
Haroon has been very involved in research exploring real-world problems throughout his time in the department. From 2019- 2020, he worked with Dr. Kaye Brubaker on one of her projects focusing on hydrology in Maryland. He collected data that showed climate change's effect on hydrology in the state. Since 2020, he has worked with Dr. Deborah Niemeier on a project examining zoning in Lubbock, Texas. They are working with an attorney to investigate how current zoning in Lubbock puts minorities at a disadvantage when it comes to property values. Haroon has appreciated both of these opportunities, and recommends to any current or potential UMD students that they reach out to a faculty member expressing their interest in doing research.
Haroon has also been involved in various Clark School and CEE organizations, while maintaining a very strong GPA. As a sophomore, he was a member of Engineers Without Borders, and was the Mix Design Lead for ASCE's Concrete Canoe team. The Covid pandemic put a halt to many of these organizations' activities. This year, however, he is serving as Webmaster for ASCE and is also a member of the Chi Epsilon Honor Society and a ClarkLEADER for Clark Communities.
He has also served as the Undergraduate Representative on the CEE Department's Diversity, Equity, and Inclusion Committee for a year and a half, since the committee's inception. In this capacity he has hosted events, such as last semester's inaugural DEI seminar, which featured Dr. Nnenia Campbell of the University of Colorado at Boulder as speaker. The seminar was attended by 150 people both in-person and virtually. Haroon's role on the DEI Committee also involves working to create a student DEI club for CEE. This semester he received our Department's first DEI Service Award, which is awarded for demonstrated service in the areas of diversity, equity, and inclusion to the student engineering community.
Haroon is also getting some engineering experience interning for Michael Baker International this semester. He found the internship through the Chi Epsilon Career Fair. Michael Baker International focuses on water resources; one of its biggest clients is WSSC (Washington Suburban Sanitary Commission). The internship involves lots of fieldwork, particularly examining utilities, and also incorporates some design.
When he has free time, Haroon loves to go hiking in D.C. or Great Falls, and trying out new restaurants in D.C. He also likes to go to the beach in Florida or North Carolina.
Despite his many activities, there are some opportunities that Haroon has missed out on due to Covid. The pandemic has meant no he has not been able to study abroad, something he very much wanted to do. He also wanted to be even more engaged in campus life and social activities. It was hard to connect with other students while learning remotely, he acknowledges. Being back on campus since Fall 2021 has helped him "really experience college life" the way he'd hoped to, he says, even if only for his senior year.
After graduation, Haroon will be working for the engineering firm Stantec. He appreciates that the organization "values all backgrounds," he says, as well as the opportunities for travel it provides. His work will involve working with government agencies, doing hydraulics modeling and flood mapping. He believes his research with Dr. Brubaker has helped prepare him for this, as have the Ground Water Hydrology and Hydrologic Engineering courses she teaches.
Eventually, Haroon hopes to go to graduate school to get his Master's in Public Policy. He believes this will help him in future project management work by teaching him more about engaging with communities. Once again, this ties into his passion for the social aspects of civil and environmental engineering. As he says, "It's important to know how to interact with people, because our whole field is about helping people." With this continued focus on the public service civil and environmental engineering provides, and the knowledge he has gained at UMD, Haroon is a civil engineer whose work is sure to benefit people and communities for decades to come.
Top