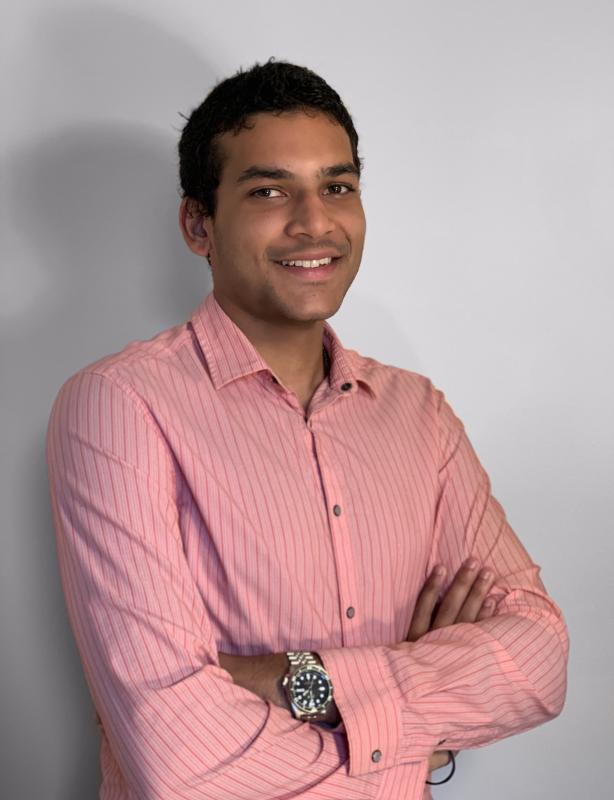 The faculty and staff have been very supportive.
Spring 2021
Avery D'Abreau was born and grew up in Trinidad. He was always gifted in math and science, and decided several years ago that he wanted to go to college in the U.S. to study engineering.  UMD was always at the top of his list, because, he says, it is "very close to Ivy League for a very affordable price." 
When he came to the United States in 2017, he initially started at Montgomery College studying Chemical Engineering. He soon switched to Civil Engineering, and received his Associates degree in Spring 2019. In Fall 2019, he transferred to UMD and the Civil and Environmental Engineering Department, where he is pursuing the Environmental/ Water Resources track.
Avery appreciates many things about the CEE Department. He says that his classes often discuss real-world applications, and that often instructors will bring in people from industry to discuss those applications. Avery also says that "the faculty and staff have been very supportive," naming especially Dr. Andrade and Dr. Torrents. One of his favorite courses at UMD has been ENCE215, "Engineering for Sustainability." He spoke with Dr. Andrade, the instructor, and volunteered to work in the Environmental lab. Dr. Andrade agreed, and he was able to gain lab experience working under Dr. Andrade's PhD students. In particular, he worked with PhD candidate Maria Rodriguez to study the effects of mercury on agriculture. He says this lab experience has been his favorite part of being in the CEE program. 
In Spring 2020 Avery became the department's peer tutor for ENCE215, which he says "allows me to give back and also keep on top of my skills." At the same time, he works part-time each semester and full-time in summer with the National Institute of Standards and Technology (NIST).  He found the position with NIST while still at Montgomery College, through the chemistry instructor for whom he was a TA.  He is part of the organization's Community Resilience Group, which analyzes hazard mitigation plans on a state level. He had his first publication, an annotated bibliography, through NIST last year, and has another upcoming publication.
Despite the obligations of work and tutoring, Avery has maintained the stellar GPA needed to get into the BS/MS program in our department. Through this program, he is taking graduate courses that can double-count for both his undergraduate degree and the CEE Department's M.S. program. When he has free time, Avery likes to play tennis, read fiction, and spend time outdoors.  He also likes to run, and has recently completed the Iron Man half-triathlon. 
Avery plans to graduate this semester (Spring 2021). Covid's impact in moving most courses online has been hard for him, he says, as he thrives on structure and routine.  But he says he has been learning to create that structure and routine for himself.  And while knowing his commencement will be virtual is "disheartening," he looks at the positive, saying that the experience he has had at UMD is more important than the ceremony.
After graduation, Avery plans to pursue the Master of Science in Environmental Engineering in our department. He plans to have Dr. Andrade and Dr. Torrents as his faculty advisors in the M.S. program. After that, he is considering a PhD or going on the job market.  Whatever the future holds for Avery, he is bound to make a difference with his passion for the environment and the skills he's learned here at UMD.
Top