UMD's Solar House Scores Second Place In The 2007 Solar Decathlon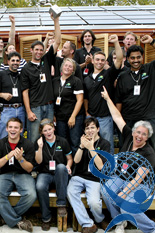 The University of Maryland's (UMD) solar decathlon team was awarded Second place in the 2007 Solar Decathlon. The event, organized by the U.S. Department of Energy's Office of Energy Efficiency and Renewable Energy, was held in Washington, DC from October 12-20, 2007. The team was also honored with the People's Choice award for the second time in a row. The UMD house or "LEAFHouse," took its design inspiration from the facets of a leaf. Civil and Environmental Engineering Department's Professor Kaye Brubaker, together with Architecture Profssors Amy Gardner and Julie Gabrielli, advised the team.
The Solar Decathlon challenged 20 college and university teams to compete in 10 contests and design, build, and operate the most attractive and energy-efficient solar-powered home.
UMD also placed first or second in the following individual competitions:
Additionally, the LEAFHouse won these honors, awarded by industry groups at the Solar Decathlon:
ASHRAE: Integration for Renewables for Sustainable Living

NAHB: First Place in the NAHB Marketing Curb Appeal Award
And LEAFHouse won this AIA Honor on 10.21.07:
PVAIA Chapter Award for the Special Award for the "Advancement of the Art and Science of Architecture"
Click here for a full size picture.
Published October 24, 2007