Mi Receives NSF CAREER Award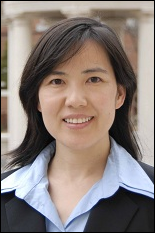 Civil and Environmental Engineering assistant professor Baoxia Mi was selected for a National Science Foundation (NSF) Faculty Early Career Development (CAREER) award for her proposal for "Graphene-enabled Synthesis and Surface Modification of Water Separation Membranes."
Mi, who also directs the University of Maryland's Membrane Innovation Lab, is researching the potentials of graphene oxide nanosheets for synthesizing a fundamentally new class of membranes and surface-modifying various existing membranes for high-performance water treatment.
According to Mi, membrane technology is generally considered one of the most effective strategies to tackle water scarcity worldwide; however, high energy requirements and long-term fouling issues have been major obstacles preventing widespread application of this technology. The graphene-based membrane technology that Mi proposed will hopefully be highly fouling-resistant, energy-efficient and capable of removing various contaminants from water.
Mi is optimistic that the graphene-based membrane technology will be very useful not only for drinking water purification and wastewater reuse, but also for renewable energy production, biomedical sensing and artificial organ development.
To disseminate the project's research findings, Mi has an education plan that will emphasize recruiting underrepresented groups to promote greater diversity in the environmental workforce, and participation in public exhibitions to raise environmental awareness among a much wider audience.
The CAREER award is NSF's most prestigious awards in support of junior faculty who exemplify the role of teacher-scholars through outstanding research, excellent education and the integration of education and research within the context of the mission of their organizations. Such activities should build a firm foundation for a lifetime of leadership in integrating education and research. NSF encourages submission of CAREER proposals from junior faculty members at all CAREER-eligible organizations and especially encourages women, members of underrepresented minority groups and persons with disabilities to apply.
For more information on Mi and to learn about her work, visit her faculty webpage or the Membrane Innovation Lab.
Published January 6, 2014