LSAMP Fellowship Helps CEE Student Pursue Dream Career in Structural Engineering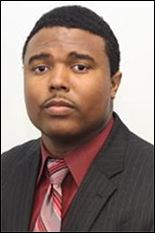 Ryan McCullough's (B.S., '15) first connection to civil engineering traces back to his grandfather, who worked for Clark Construction. Today, the CEE graduate student is working toward his own longtime goal of establishing a career in structural engineering, with support from the Louis Stokes Alliances for Minority Participation (LSAMP) Bridge to the Doctorate Fellowship.
"Throughout my undergraduate career, the study of structures always interested me the most," McCullough said. "Looking at the interaction of smaller components as they relate to a greater system has always reminded me of a puzzle."
McCullough is particularly interested in learning more about the effects of different loading cases on a structure, and the measurable physical responses of structures' components.
A Clark School Ambassador and an active member of the University of Maryland chapter of the American Society of Civil Engineers (ASCE), McCullough also served as a university resident assistant for three years as an undergraduate. Today, he is developing hands-on skills as a second-year intern with Network Building + Consulting (NB+C), a company that specializes in telecommunication network design and engineering.
Established to encourage and support graduate student participation in the STEM fields, the LSAMP Bridge to the Doctorate Fellowship provides $30,000 per school year for two years to cover education costs and some living costs. Throughout the fellowship program, McCullough will be paired with a professor and will take part in a number of events and meetings with fellow award recipients.
"The Bridge to the Doctorate Fellowship will help me grow as a young professional in the engineering field," McCullough said. "The opportunity to attend national and professional conferences will assist me in networking. Academically, the fellowship will give me the opportunity to do research in the field of structural engineering, which may influence my professional and academic future."
Prior to entering the University of Maryland as an undergraduate in 2010, McCullough enjoyed his first learning experiences in engineering as a student at the Western School of Technology and Environmental Science in Baltimore, Md. Throughout his high school years, he studied plumbing and gas fitting and learned about a variety of aspects of civil engineering.
About the LSAMP Bridge to the Doctorate Fellowship
The LSAMP Bridge to the Doctorate Fellowship is a highly competitive program designed to encourage and support graduate students pursuing degrees in science, technology, engineering, and mathematics. More importantly, the program specifically seeks to support graduate students who graduated from an LSAMP undergraduate institution and participated in an LSAMP program during their matriculation. For more information, visit the University of Maryland Center for Minorities in Science and Engineering website.
Published July 15, 2015