Lovell Recognized as ENGAGED Faculty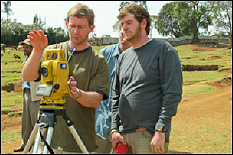 Dr. David Lovell is one of six A. James Clark School of Engineering faculty members to be honored by the ENGAGE* program in their first faculty awards. The winning faculty were selected from an initial pool of potential candidates determined by undergraduate student nominations in the Clark School. The requirements of an ENGAGED faculty member are the following: to be approachable, to take a genuine interest and have concern for their students (especially outside the classroom), to be accessible, to have high expectations of their students, and to encourage students and provide advice and support on academic and extracurricular activities.
The faculty members were noted for their patience and dedication as student mentors and role models. Dr. Lovell has served as EWB's faculty adviser since 2010. Prior to this, he was the faculty mentor for four projects since EWB-UMCP's inception in 2004, including Pine Ridge, Burkina Faso Water, and the first phase of Ethiopia. He also currently works as the Ethiopia II project's faculty mentor in their stream crossing project, and he traveled with the assessment team in January 2011.
*The ENGAGE program is funded by the National Science Foundation. Its goal is to increase the capacity of engineering schools to retain undergraduate students.
Published May 25, 2011