Davis Contributes Expertise to Stormwater Management Summit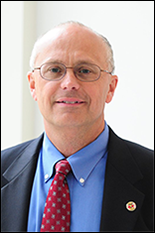 Department of Civil and Environmental Engineering (CEE) Professor Allen P. Davis was one of three experts invited to lead this year's Stormwater Management Summit, hosted by Soltesz, Inc., on Wednesday, July 23.
Along with Neil Weinstein of the Low Impact Development Center and Villanova CEE Professor Robert Traver, Davis addressed more than 50 employees from public agencies, state municipalities and private firms across Maryland about new advances in stormwater management for the Chesapeake Bay region. The three nationally renowned experts also discussed the latest innovations in stormwater management, state-of-the-art planning and design approaches for watershed planning and management, "green" infrastructure, bioretention and water quality.
"This was a great opportunity to reach out to our local private firms and municipalities who are charged with addressing very complex stormwater challenges in the Chesapeake Bay watershed," Davis said. "The results of our research can have practical impact on reducing costs and pollutant loads to the Bay."
"As a company, we are very proud to have hosted this event in this expanding, exciting market," said Jim Soltesz, President and CEO of Soltesz, Inc. "Having three of the top experts in this field discussing best practices and new innovations is a great experience for our staff and the other attendees."
Published July 29, 2014