Clark School Recognizes Outstanding Retirees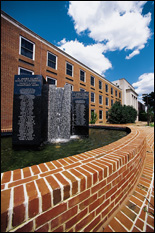 On October 29, Clark School faculty and staff gathered to honor ten staff retirees, both living and deceased, with Engineering Outstanding Commitment Awards.
Clark School Dean Darryll Pines presided over the ceremony held on the plaza in front of Glenn L. Martin Hall. Professor William Fourney presented the awards.
The honorees included Suzanne K. Hickes, William S. Levine, Thomas J. McAvoy, Jon H. Orloff, Carol A. Prier and Edward M. Sybert.
The Outstanding Commitment Awards honor individuals in the college whose extraordinary contributions have made the college a better place to live and work. The names of the honorees are carved into the fountain that graces the Martin Hall plaza.
Published November 2, 2009